Top 5 Nintendo DS Emulators For Android – Play Nintendo games easily
Top 5 Best Nintendo DS Emulators for Android
Playing your favorite game using a handheld console, makes you feel nostalgic. As we all know, the Nintendo DS was one of the most popular dual-screen handheld devices of all time. Nowadays, there are several new versions, updates, and unique features for modern handheld devices.В
Nevertheless, you can still enjoy and play the DS console right on your Android smartphone. Just visit the Play Store, install the DS app, and play! So far, here is the best DS emulator for Android on our list:
5. NDS4Droid
So far, this is the oldest DS emulator among the popular ones. In addition, it's system updates were already outdated ever since 2016. However, it is still a convenient and reliable app to consider. It can still fulfill the basic gaming needs of the players. Download NDS4Droid here.
Most of the game ROMs worked perfectly fine with this app. The pixels and graphics are smooth, sharp, and edgy. If you're looking for a free and open-source DS emulator, this is a great choice to consider. It does not violate the GPL, unlike the other apps. It has also an auto-save feature so your game will be saved unexpectedly. You can enjoy the gaming experience since it does not have any ads. Furthermore, this app is totally free to use.
The game developer was fully aware of the issues. It has a slow frame rate and the sound tends to get crappy due to the system glitches. According to the developer, it is based on the DeSmuME however, it does not have similar functions and features like the DeSmuME.
4. Emubox
Some players want a plain and basic gaming console to suit their needs. If you're this type, you may try the Emubox app. Even if this was a newly released app in 2017, I noticed that it outranked the NDS4droid already. It's versatility and capability to function like the Retro Arch made it popular among the players. Download Emubox here.
Like the Retro Arch, the Emubox DS Emulator contains all-in-one gaming consoles. You can play using the NDS, GBA, GBC, SNES, NES, and PSX consoles. It supports fast forward emulation speed and tweaks the gaming settings for optimum gaming performance.
You can also play it with an external controller. In addition, this app is the latest among the top 5 Best DS Emulator for Android.
Some players are experiencing issues when it comes to importing the ROMs. It has only a basic setting which was far behind the Retro Arch. It contains ads that crash the save states. You need to save your game every time so that you can able to load the states perfectly.
3. Retro Arch
One funny thing that I noticed with this app, the logo looks like a virus to me. However, you should not judge the book by its cover as they say. It may look like a crappy app but surprisingly, it can load various ROMs and you can even play different consoles with this app. What's more? You can even join the discord for a net play matchmaking! Download RetroArch here.
Leading at the third place, the retro arch features Libretro. It is a well-design interface that allows the players to use cross-platform applications such as location support, OpenGL, and camera support. It can manage 80 various programs hence, it's an all-in-one emulator.
In addition, it contains a built-in input remap so you can configure the controls. You can also able to save and load cheats. This app also features various consoles such as SNES, NES, Genesis, Sega, etc. Another plus point, it is free to use.В
The menu interface is not user-friendly, especially for the first-timers. It consumes a large space in your phone as compared with the other gaming consoles. There are some incompatibility issues with some of the gaming consoles. Moreover, it is prone to glitches and bugs, so you'll need to always save your game.В В
2. NDS Emulator
If you're looking for an alternative app like Drastic, you may consider this emulator. Generally, it is compatible with most devices and it has user-friendly control panels. I have personally used this app and it perfectly works on my Pokémon Pearl ROM. It allows using external controllers in which this doubles the fun while using this app. Download NDS Emulator here.
The NDS Emulator can really keep pace with the best DS emulators for Android. It features top speed emulation. You can quickly save game states anytime. Customizing the game screen and control panels are also possible in this app. As a plus point for this app, it is relatively free.
Many players are usually annoyed with the ads on the screen, but you can play the app offline to remove the ads. There are also some cases wherein loading the game takes time. However, it is still a competitive and amazing app as an alternative to Drastic.
1. Drastic DS Emulator
Twitch your gaming experience with the Drastic DS Emulator. Hands down for this emulator because it is always on the top list. It is the most popular app and ranked as the number one spot in Play Store among the DS emulators. Download Drastic DS Emulator here.
Its adjustable emulation speed makes the players astounded as to its performance. The user interface and graphics are worth the price. No more pixelated resolutions since it can improve the graphics by 2×2. It's ads-free hence, you can enjoy the gaming experience anytime and anywhere.
It fully supports the physical controls and add-on functionalities such as Xperia Play and NVidia Shield. In times of challenging gameplay, you may try its cheat codes database. Lastly, you may synchronize the saved games using Google Drive.
WIFI and multiplayer functions were not yet supported by the app. The installation requires a minimum payment, but it has a good bargain price.
Conclusion
It's very interesting to know that there are several DS emulator apps available to try from the Play store, there are plenty of them just like the DS emulators for PC. You don't need to download the apk or .exe console directly from the internet. Sounds great right? Go ahead and download the best emulator from Play Store now!В В
The Top 5 Best Nintendo DS emulators for Android
Nintendo's is one of the most & iconic handle gaming consoles. They have a great collection handheld Video Games like Modern Warfare 3, Ben 10: Protector of Earth, Pokemon mystery, Star Wars: The Force Unleashed etc.
If you would like to play Nintendo DS games on your own Android phone? So you can do with the help of a few NDS emulator. DS emulators are still not fully optimized for all functions and controls, there are a few options are available. However, don't worry still developers are worked hard to provide the best practices for the application. To enjoy NDS games, here we are sharing a procedure & best ds emulator for android.
I have previously written about the best android emulator for PC.
Requirements to Play the NDS games on Android you need to have:
Nintendo DS Emulator
NDS Games ROM
WinRAR (if required)
How to Play Nintendo DS Games?
Download NDS emulator from Google PlayStore.
Now download your favourite NDS Games ROM from here.
Open the Emulator & Select the "NDS downloaded Games" ROM.
Start Playing
Boom enjoy!
The best Nintendo DS Emulator for Android
Here I've listed out the best Nintendo Emulator for Android. They have all testing by me and review on features and user based experiences.
1. DraStic DS Emulator
DraStic is first and the top list of Nintendo DS emulators for Android. It comes with many best features and provides a full control to operate the game. DraStic is available of cost for $5 that the totally worth and you won't be disappointed for any kind. It has an amazing development creator. If you are a lover of the Nintendo games then you must have to try this app.
Quick Overview
Fully Supported add-on Controllers etc.
Fast Forward Mode enable.
Customize DS Screens Modes.
Sync your data game via Google Drive Space.
Available for only Paid users.
2. NDS Boy! NDS Emulator
NDS Boy is another the best ds emulator for Android that lets you play your favorite NDS games. It can run a lot of NDS games file such as .nds, .zip, .7z, .rar. This app is available it for free of cost and has no ads with a user experience. This app is compatible with high-end devices and should minimum 2GB RAM, quad-core Processor or a higher end. This may help you to play any games without lagging or crashing. So, download this app Today and start Playing games on Android device.
Quick Overview
The device should be (2G RAM, quad-core CPU or higher).
Edit, Resize and Zoom enable.
Quick to save and load etc.
Compatible with Android 5.0 & 6.0
Available for Free of cost
Note: If you have Android 6.0 Marshmallow device, You may be facing some directory problem, here is the quick solution just follow the procedure.
Go to Android Setting >> Application >> NDS Boy
Choose Storage >> Clear Data
Finally, Allow the Permission
3. AseDS ( Emulator for NDS )
AseDS is the best Emulator for playing your favourite Nintendo(DS) games in Android device. Inside the app, there are many features are inbuilt as like dual touch screen, easy to save the stack and load it quickly, action replay, code breaker cheats etc. Additionally, it supports wireless control and several things. This app is currently downloading over 1,000,000 peoples and it is the best Nintendo Ds emulator for Android. Now it's your turn, just try and enjoy on your Android device.
Quick Overview
Faster game speed
Ads are a little annoying
Supports Wireless Controllers and Microphone
Compatible with Android 6.0 7.0
4. GENPlusDroid
GENPlusDroid is a best DS open source emulator. This app is offered by Halsafar. It works with full speed and can run high compatibility games and has a Multi Touch, Keyboard, Gamepad controller with many robust features. This app is compatible with Android 2.0+, upgraded version. This app is working perfectly you should not need to wait just try it.
Quick Overview
Features: Fast Forward, Auto Save, Move, Resize, Gamepad controllers etc.
Run High compatibility Games Virtual Racing, etc.
Play 2 Players at the same time.
5. NDS4Droid
NDS4droid is another free Nintendo DS emulator and offered by Jeffrey Quesnelle. It supports several features like OUYA game console expect to save states and sound. You can enjoy the games on a lower and higher end device. This app is still slow and programmers are working on the improvement.
Quick Overview
Several Features
Support (OUYA game console)
Disable Save states and sound
Performance is needed
Download Now Conclusion
I hope the list of best Nintendo Emulator will help you to choose the right. I would love to hear your experiences if you have used any of the above emulator or any other Nintendo emulator on your Android device. Do let know your thoughts in the comments below.
If you love this post, do share it with your friends on Facebook & Twitter!
Here are some related articles for you to read next:
5 best Nintendo DS emulators for Android!

The Nintendo DS is among the most popular handheld consoles of all time. Its iconic value is right up there with that of the Game Boy and the PSP. There were some amazing games for the system and sometimes it's easier to keep those games on your phone than to carry around a second device to play them. Sadly, development of the Nintendo DS emulator platform is still is a little niche so there aren't a ton of options to choose from. Nevertheless, we did find a few that worked well so here are the best Nintendo DS emulators for Android! Thankfully, this market has stabilized a lot over the last year. The selections for 2020 are exactly the same as 2019.
5 best PSP emulators for Android
10 best Game Boy Advance, Game Boy Color, and Game Boy emulators!
DraStic DS Emulator
Price: $4.99
DraStic DS Emulator is probably the best of the Nintendo DS emulators right now. During our testing, it played pretty much every game we threw at it. There are probably only a handful of games that don't work right. The emulator comes with a host of features, including screen layout customization, controller customization, support for hardware controllers, fast forward, Google Drive support, and high end devices can enjoy some improved graphics rendering if they so choose. The price is $4.99. That's cheaper than it used to be. It's a good bargain. This is the one we'd recommend first.
EmuBox
Price: Free
EmuBox is a newer emulator with a bunch of compatible systems. That includes PlayStation, SNES, and yes, Nintendo DS. This is one of the few emulators with Material Design. That makes it good looking. Thankfully, it also works okay. We didn't have any serious problems playing the games we tested. Some have lamented some bugs with the emulator when using too many cheat codes, but otherwise the Google Play reviews are also mostly positive. It's a free emulator with advertising. We hope a pro version without ads comes eventually.
NDS Emulator
Price: Free
NDS Emulator is one of the newer Nintendo DS emulators. It has all of the basic features such as external controller support, save states, load states, and customizable on-screen game pads. It played most of the games we tried during testing as well. It's far from perfect and there are bugs. However, this is one of the better free Nintendo DS emulators available. There are ads and they are rather annoying. We would've liked a way to pay to remove them. It's not the one we'd recommend first, but it's definitely in the top five.
nds4droid
Price: Free
nds4droid is one of the older Nintendo DS emulators. It hasn't received an update in a while. However, it is open source. Thus, developers can use this as a base to make their own. As an emulator, it's okay. It does have some issues. That includes slower emulation. It does include a frame skip option to help mitigate this, though. Otherwise, it's completely free with no in-app purchases and no advertisements. It's a good starting point. If it works for you, all the better.
RetroArch
Price: Free
RetroArch is an all-in-one emulator. It supports a variety of game systems. That includes the Nintendo DS, Game Boy, SNES, Game Boy Advance, and plenty of non-Nintendo systems. You have to download and install each system individually within the app. That means you'll have to download this, get the Nintendo DS core, and then you can finally play games. It supports all of the basic features. It's not the easiest to use. However, it is completely free with no in-app purchases or advertising. It's also in active development right now.
5 best SNES emulators for Android!
15 best emulators for Android to play old favorites!
If we missed any great Nintendo DS emulators for Android, tell us about them in the comments! You can also click here to check out our latest Android app and game lists!
Top 5 Nintendo DS Emulators For Android – Play Nintendo games easily
Nintendo DS emulators or NDS are the greatest consoles produced by Nintendo of all time. It was introduced in 2004 and these emulators gained widespread support from its fans. The dual screen for gameplay, with one having an advanced touchscreen facility, made it the best seller. This particular console has reached close to PlayStation 2 and Game Boy in terms of lifetime sales. It has attracted casual%game players, non-gamers into the amazing gaming community. Nintendo's have a very huge collection of handheld video games which can give users an extraordinary experience of gaming. So if you are in search of the best Nintendo's, I am here to help you. Here I have provided the best five which can deliver the feel of gaming.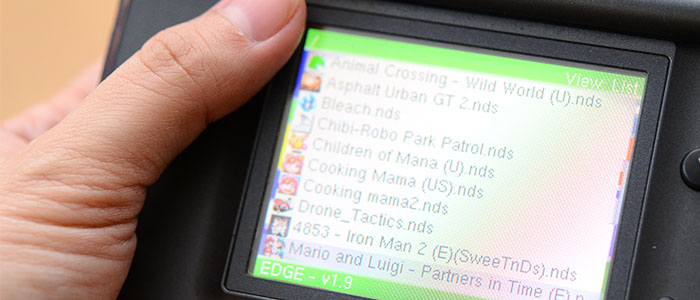 Best Nintendo DS Emulators For Android to play Nintendo games
#1:- DraStic DS Emulator
Personally, I feel DraStic DS emulator are the best rolling in the market right now. The comfort that this particular emulator provides is quite exquisite. I have to mention, this stuff worked well with almost everything that we had thrown on it. DraStic DS emulators come with a variety of features and this makes it acceptable in the gaming community. It has a wonderful optical feature which works on almost every high-end quad-core devices. This emulator enhances 3D graphics of the games 2*2 times their indigenous resolution. It allows you to customize the size and placement of DS screens. One can make this both portrait and landscape modes while using it.
If you are not fine with ads, you may use ads controllers while enjoying this emulator. Add-on controllers fully support this feature. The physical controllers are useful in certain devices. This may include nVidia shield and Xperia play. By using the feature of save states, it is possible for users to resume their progress from anywhere. There are thousands of cheat codes available for DraStic DS emulators. By using these codes one can easily tweak the gaming experience. There is a facility of fast forward to increase emulation speed. One can also synchronize games with online google drive space. The price is close to $5 dollars and one can download the same from the following link.
Additionally, DraStic offers a free version that is a copy to their paid one with some minor features missing. You can also download the free DraStic version.
#2 NDS Emulator
NDS emulator is one of the newest Nintendo DS emulators for the game lovers. Now it is easy for users to enjoy playing Nintendo DS games. The gaming is achieved at very high speed with this emulator. There are countless features for this particular stuff. All of them can take you to a level of amusement. Most importantly, the emulator is a collection of different basic features. This range from external controllable support to an editable game screen. One can enjoy DS games with NDS emulator. The app supports NDS files like .nds, .zip and much more to deliver an amazing gaming experience.
NDS emulator has the feature of save game states and load game states. This allows you to resume the progress of gaming whenever needed. The external controller support comprised of control buttons are quite astonishing. These are always an asset to gamers. It has played games well above 90% of games that we tried on it. But one should keep in mind that there are a few bugs, and can be tolerated. Interestingly, the user can avail all these features at a free cost. There are adds and sometimes this may be annoying to its users. If you request for ROM, without any hesitation your request is ignored. I don't say this is the best, but for sure the top five list of mine will be incomplete without NDS emulator's presence. Have a check on it in the given link.
#3 EmuBox
EmuBox is another Nintendo DS emulator which always stands in the sides of users. It plays a series of games and for the same reason, a wide-spread popularity is gained by the emulator. The emulator has a bunch of compatible systems. EmuBox is completely a new emulator that runs all your old game ROMs. Without any hesitation, one can replace slow and laggy old emulators with EmuBox. Besides NDS emulator, EmuBox is compatible with PSX, SNES, GBA, GBC, NES, and SNES emulators. The design of EmuBox is also quite astounding. EmuBox comes with a material design and this keeps it a good looking structure. I think only a few emulators have a material design.
I have tried different games on this stuff. Thankfully, the response from emulator made me include the same in my top five list. There are save game and load game states. One can save up to 20 slots with EmuBox on a go. This number is also great, isn't it? You can play with an external controller by connecting Bluetooth gamepad with this. Additionally, taking screenshots at any time and the option of fast-forward is also equipped in this emulator. For optimized performance, users can tweak emulator settings accordingly. However, I have also experienced certain bugs while using an enormous amount of cheat codes. Besides this, EmuBox is a hot pick and one can have a tap on the link to download on play store.
#4 NDS4droid
Anyone in the gaming world would love this nds4droid emulator just because the features that it offers. One doesn't have to pay any fee to own this as nds4droid is completely free. It is one of the older Nintendo DS emulators. You have to note that nds4droid hasn't received any update since 2016. But it is an open source to have a try. On the other hand, most emulators violate the GPL but nds4droid doesn't do so. Android developers can make this open source to make their own. There are quite interesting and astonishing features for nds4droid at free cost.
As we all know sound brings a better gaming experience to the table. The nds4droid has to save states and sound option to deliver you a great experience. One can rest assured that the game will remain pause for times. Players are allowed to pick the game right from where they stopped it. The emulator also supports the OUYA game console. However, there are certain issues with nds4droid regarding gaming. The slower emulation is the predominant one. Interestingly, the frame skip option is incorporated to mitigate this challenge. But god knows how much effect this has. If we neglect this, the app is just exquisite without any running ads and in-app purchases.
#5 RetroArch
RetroArch is gonna be my final pick in top best Nintendo DS emulator list. The app is an all in one emulator as it supports a variety of features. It is also compatible with different systems. This includes Game Boy, SNES, Game Boy Advance, and other non-Nintendo systems. One has to download and install each of them individually in the app. RetoArch is an open source project and it makes use of a very strong and powerful interface called Liberto. Liberto allows users to use cross-platform applications which have advanced features. In this stuff, one can find new eye candy menus to select from. Moreover, it allows users to scan files and add them to game system collections.
Users are able to find database information about every game once it is added to the collection. This game and watch emulator allows you to download, watch and play games which are of your taste. In addition to this, the built-in input remapping and the ability to remap controls always gain user support. Besides all these features, RetroArch enables you to enter and use cheat codes along with its multi-language support. I cannot say that RetroArch is easy to use for a beginner. However, there are no advertising and in-app purchases which makes this stuff in the top five list of mine. Have a check on this wonderful Nintendo DS emulator in google play store.
Conclusion
These are the best 5 Nintendo DS emulators for Android that have sparked my review. Sure, there might be more to pick from, and if my voracious readers find so please let me know. Anyway, the list I have mentioned can deliver you not less than a stunning gaming experience. If you have a look on Play Store from any of my links, kindly comment in the box.
DS Emulator For Android: Play Nintendo DS Games On Android NO ROOT 2020! (SuperNDS) NO 3DS Emulator!
Для просмотра онлайн кликните на видео ⤵
SuperNDS NintendoDS emulator setup for Android phone/Tablet (2020) Подробнее
Эмулятор Нинтендо 3дс на андроид!) Подробнее
How To Get ANY Nintendo DS Game On Android!! (2019) SuperNDS Emulator Подробнее
Эмулятор нинтендо ДС на андроид туториал по его использованию Подробнее
The Best FREE Nintendo DS Emulator For Android! Подробнее
Nintendo DS On Nintendo Switch (Full Speed) Подробнее
5 Best DS Emulators for Android Подробнее
NDS Emulator For Android/Best Emulator For Android 2020 Подробнее
Best NDS (DS) Emulator For Android Free 2020 Подробнее
How to Play Nintendo DS Games on Android Подробнее
How To Download And Play Nintendo DS In Android Подробнее
Эмулятор 3DS на андроид (эмуляторы ч.3) Подробнее
Top 5 BEST Pokemon Games Подробнее
Run nds emulator fast without drastic Подробнее
How to open Drastic Games in Android Подробнее
How to: Play Nintendo DS (NDS) Games On Any Android Device Подробнее
Play NDS games on your iPhone, iPad or iPod! *NDS4iOS iOS 13* Подробнее
DOWNLOAD: DraStic DS Emulator v2.5.2.1 *grátis* (P/Android) COMO BAIXAR E INSTALAR VIA MEDIAFIRE Подробнее
NEW! EASILY INSTALL Nintendo DS Emulator On iOS 13 / 12 / 11! (NO JAILBREAK) iPhone, iPad, iPod Подробнее
Top Nintendo 3DS Emulators & Steps to Install Nintendo 3ds Emulator for PC
Nintendo 3DS Emulator can be used on any platform like Android, iOS, Windows PC, Mac. In this article, we are going to provide top 10 Nintendo 3DS Emulators for PC and how to install Nintendo 3DS Emulator on PC/Android/Laptop.
Nintendo3DSEmulatorsForPC
We know, most people looking for Nintendo 3Ds Emulator PC versions. So, today here we will be given information about some best working Nintendo 3DS Emulators for Android and PCs that will help you to play Nintendo video games on your Android Mobile or PC. 3Ds emulators are also very accommodating for gaming developers.
Primarily the Nintendo 3Ds was released on 26 February 2011, in Japan and across the globe. Get new version of Nintendo 3Ds Emulator for Play your favorite games on your PC, Mac, Android by downloading best 3ds Emulators Now!
Nintendo 3Ds Emulators are the most popular ones and it holds a unique merging quality. The Nintendo 3DS is so different. There are some special features that Nintendo offers and N64 and 3DS are so popular. And, these features may not be emulated completely on Smart Phone Devices.
Auto Save, Realistic Experience, Higher Resolution, Amazing Audio Experience are the Features of Nintendo 3DS Emulator (V.2.0).
You will be able to play Nintendo Games on your Android device by using the multiplayer feature of Nintendo 3DS Emulator.
Top Nintendo 3DS Emulators for PC/Mac:
1. Citra
Citra is the first emulator of Nintendo 3DS, developed by Citra team. Citra is an open source project that develops Nintendo 3ds emulator since 2014. It is developed by C++ language. Citra is able to run most of the games at 60fps and with resolution of 400×200. It is supported on Windows, Linux and Mac OS platforms. Citra has older graphic games, which allows you to enjoy the graphic much smoother than the game originally has. Citra has features like better visual output, debugging homebrew with planed controller support. Citra has been proven as the best emulator compared to all other emulators and apps. You can download this software from its official website and you can enjoy playing games on your PC.
2. DeSmuME
DeSumME is an open source and free Nintendo 3ds emulator software. This software is supported on platforms of Windows, Linux and Mac OS X. originally the emulator was in French but it has user translators to English as well as other languages. This lightweight emulator is very easy to use and simple. It is first Nintendo emulator for 32-bit operating system. This emulator has a handful of wireless multi-boot demo RMO's. The emulator has features like dual monitor, on game screenshot, cheat menu and much more. You can download it on your PC from its official website.
3. TronDS
This Nintendo software is not very popular because this software doesn't allows it users to play games it is just for simple 3ds programs like homebrew. It was written in C# language. TronDS was released in May, 2014. It is supported on windows operating system. It is not updated and very unstable. The last update of this emulator came in early 2015. You can download this software from the official website.
4. No$GBA
No$GBA is pronounced as no cash GBA (Gaming Boy Advanced). It is originally free but after some updates and issues this software is not available for free. This software is GMA emulator and available for windows vista and windows XP. This software is not capable of running commercial and homebrew games. Every time the developers update this software. This emulator supports multiplayer and is able to load multiple NDS ROM files for linking games. This emulator was initially released in 2002.
5. 3DMOO
3DMOO is another free emulator. It is supported on Windows and Linux operating system. It is an open source emulator for 3ds emulator games. This software download link is not available officially but it has download files on other sites. This emulator was initially released in 2014 and last updated in 2015. This emulator has many complaints that it sometimes gets crashed. You can download it on your PC from some websites and can enjoy playing games on your PC.
6. iDeaS
iDeaS is another emulator for 3ds games. This software is available for free. You can download it on your PC and can enjoy gaming experience. This software was supported on windows platform. This software runs some commercial games like supermario and Pokemon. The features of this software are it supports dual screens with 99% enabling ROMs, including many games. The plugins related to this software are available on its official website. The updates of this software are increasing day-by-day.
7. NeonDS
NeonDS is another emulator for playing 3ds games. This software runs on all windows versions. It is free emulator software. This software runs on a few commercial games and its compatibility is fairly good. It is fairly light game and doesn't take up much space as other emulators. It is supported in only English language for its users. This software is mostly used in countries like India, US and Israel. This software is last updated in early 2011. You can download this software from its official website.
How to Install Nintendo 3DS Emulator for PC
Following are the process/steps to download and install Nintendo 3DS Emulator for PC/Android phone.
Download Citra/iDeaS/NeonDS/DeSmuME 3D Emulator for PC from official website.
Extract the downloaded file by double click on it
Then open extract file to setup
You will be asked there to install/set up 3DS Emulator
Click on 'Next' and accept the adds-ons, plug-in and term & condition.
If Citra/iDeaS/NeonDS/DeSmuME 3D Emulator has been installed successfully then it will show on shortcuts on your Personal Computer (PC).
After installation, you must install the Bios by downloading and follow the guidelines/instructions.
After complete above steps, download your favorite game and open then navigate to the .3DS ROM to launch the game.
Also See:
All above-listed emulators are the Best Nintendo 3Ds Emulators for Android, Windows PC & Mac 2017 edition. If you have any queries, drop them in the comment box and we will be sure to answer you.