Google reportedly will require 'Powered by Android' branding on newer devices
Google will require new Android devices to run Android 10 if approved after January 31, 2020
Earlier today, we first reported on Google's new Game Device Certification program and Digital Wellbeing requirements. We obtained information on both thanks to the latest version of Google's GMS Requirements for OEMs/ODMs. This document also outlines the deadlines in which OEMs/ODMs can submit software builds to Google to get approval for GMS distribution. Notably, the document confirms that January 31, 2020 is the last date that Google will approve smartphones running Android 9 Pie. After that date, Google will only approve new devices running the latest Android version, Android 10.
GMS stands for Google Mobile Services, and it's a suite of Google apps, services, and libraries that companies must license to preinstall on Android devices. The suite is most notable for containing apps like the Google Play Store and Google Play Services, the lack of which has soured the recent launch of the Huawei Mate 30. In order to be approved to preload GMS, OEMs must submit the software builds for each device they make to Google for approval. The approval process involves meeting the requirements in the Compatibility Definition Document (CDD) and the GMS Requirements document, and also passing automated test suites like the Compatibility Test Suite (CTS), Vendor Test Suite (VTS), and Google Test Suite (GTS). It's a complex process and there are a lot of requirements to meet, so OEMs apply for GMS approval weeks or months in advance. However, Google wants OEMs to ship newer versions of Android on their devices, so after a while, they stop approving GMS distributions on devices that launch with older Android versions.
As you can see in the chart below, Google will stop approving new devices that run Android 9 Pie after January 31, 2020. Android 9 Pie was released to the public on August 6, 2018, so that means OEMs will have had nearly a year and a half to release devices running Android 9. Just because the approval window closes on January 31st doesn't mean we'll completely stop seeing Android 9 devices after the date, though, since OEMs can seek approval for their upcoming devices before the approval window closes. However, knowing that January 31, 2020, is the cutoff date for Android 9 means we can expect to see a flood of new devices running Android 10 in the weeks after.

For devices that won't get an official update to Android 10, Google will still approve new software builds based on Android 9 Pie for a few more months. Google will stop approving Android 9 Pie-based software updates after the launch of Android 11, which will likely happen in August of 2020. After the Android 11 launch, Google will no longer approve Android updates except for security patch updates. Interestingly, if Android 11 launches in August as expected, then that means Google is cutting short the software build approval window when compared to how long they used to approve software updates for older Android versions.
Another interesting piece of information from this table is the extended approval window for Android 8.1 Oreo (Go Edition). New Android 8.1 Oreo (Go Edition) devices will still be approved until October 31, 2019, 10 months after the approval window closed for the standard Android 8.1 Oreo release. According to Flame Group, a company that specializes in helping OEMs pass Google's GMS Certification, Google extended Android 8.1 Oreo (Go Edition)'s approval window due to performance regressions found in Android 9 Pie (Go Edition).
Android's overall update situation still isn't great, but requirements like these have forced OEMs to keep up with new Android releases. We can see what things might be like without such requirements, as Amazon just launched a new tablet today with Android Oreo onboard. Thanks to initiatives like Project Mainline in Android 10, Google is making it easier for system components to get updates, easing the burden of manufacturers to keep up with all the changes in each Android release. Android updates are definitely getting better, and we're slowly seeing the update situation improve each year.
Google reportedly will require 'Powered by Android' branding on newer devices
Despite Google's dominance in the mobile world, there's a distinct lack of Android branding found on most Android devices — something Google is now reportedly starting to address.
Let's face it, mobile operating systems seem to be in a very different position from desktop OSes when it comes to branding and marketing. If you ask an average PC user what OS they are running, most of them will quickly respond "Windows". Ask a Mac user what OS they are running, and they will likely know they are rocking a Mac OS computer.
Turning towards mobile devices, if you were to ask the average Apple mobile device owner what OS they are running you'd probably hear a minority actually refer to the platform as iOS, with most users simply referring to their device as an iPhone or iPad. Surely Android doesn't have the same problem, right? After all, it's the world's most popular OS and a favorite among the more 'hardcore' mobile users out there.
Mobile operating systems seem to be in a very different position from desktop OSes when it comes to branding and marketing
That said, Android's dominance in the global market also means plenty of non-techies have Android devices, and many of these devices have thoroughly customized UIs such as Sense and TouchWiz. Add a lack of "Android branding" to the mix, and I think you'd be surprised to find many Samsung owners would say they are running "the Galaxy OS" and many other Android device owners would probably say they have an HTC One, a Galaxy S4, or simply a Google OS device.
To help resolve some of the confusion that comes with having multiple different manufacturer partners and tons of customized UIs, Google has reportedly began mandating that partner devices include a "Powered by Android" logo present during the boot animation — at least if a new claim from Geek proves correct.
It's important to note that neither Google, HTC or Samsung has directly confirmed this requirement just yet, so we'd take the report with a grain of salt. There is at least some evidence of this claim, however, as both the Galaxy S5 and the HTC One M8 have been spotted rocking a "powered by Android" logo.
The appearance of the Android logo sort of reminds us of the "Intel Inside" logo
If Google really is requiring HTC and Samsung to include the logos,we have to wonder about the terms of the arrangement. Although we've yet to see the logo on devices like the Sony Xperia Z2 (to our knowledge), there is the possibility that Google will require all new Google Play certified devices to carry the branding in the future. There's also the chance that this is a separate optional deal with some currently unknown benefit for manufacturers that agree. For now, all we can do is speculate.
The appearance of the Android logo kind of reminds us of the "Intel Inside" logo found on the back of Intel-powered devices, which helped bring recognition to Intel's role inside our PCs starting in the 90s. It's hard to say how Google might benefit from bringing recognition to the Android name, but perhaps it's as simple as reducing customer confusion. Either way, we'll be keeping our eyes out for more devices that feature the "Powered by Android" logo in the near future.
What do you think, should Google require manufacturers to include a "powered by Android" logo or should it be an entirely optional arrangement?
Android
4 754 пользователя находятся здесь
МОДЕРАТОРЫ
onesixoneeight 4XL
IAmAN00bie Mod — OnePlus 5T
nty Nexus 6P / 5X
iJeff Moderator — Note 8, G7 ThinQ
josh6499 Note 9
Cassiuz iPhone Traitor
ladfrombrad Tissot | Fugu || 3UK / Giffgaff
Deksloc /r/Android AMA Coordinator
lannisterstark Another day, another PSA
AndroidAMABot
. и ещё 20 »
Welcome to Reddit,
the front page of the internet.
and join one of thousands of communities.
отправлено 7 месяцев назад автор Hupro Pixel 3a XL
Want to add to the discussion?
[–]ishamm Pixel 4 188 очков 189 очков 190 очков 7 месяцев назад (24 дочерних комментария)
[–]Monog0n Pixel 2, Android 10 112 очков 113 очков 114 очков 7 месяцев назад (11 дочерних комментарев)
[–]angelartech 38 очков 39 очков 40 очков 7 месяцев назад (5 дочерних комментарев)
[–]-KFU- OnePlus 6, 9.0 !! 28 очков 29 очков 30 очков 7 месяцев назад (4 дочерних комментария)
[–]Phayzon SixPlus 1T 28 очков 29 очков 30 очков 7 месяцев назад (0 дочерних комментарев)
[–]nascentt Pixel 2 + MediaPad M5 (Primarily) -5 очков -4 очков -3 очков 7 месяцев назад (2 дочерних комментария)
[–]DarkJedi1221 Pixel 3 7 очков 8 очков 9 очков 7 месяцев назад (1 дочерний комментарий)
[–]nascentt Pixel 2 + MediaPad M5 (Primarily) -1 очков 0 очков 1 очко 7 месяцев назад (0 дочерних комментарев)
[–]rayw_reddit Samsung Galaxy S20 Ultra US Unlocked 10 очков 11 очков 12 очков 7 месяцев назад (4 дочерних комментария)
[–]rayw_reddit Samsung Galaxy S20 Ultra US Unlocked 2 очка 3 очка 4 очка 7 месяцев назад (2 дочерних комментария)
[–]rayw_reddit Samsung Galaxy S20 Ultra US Unlocked 0 очков 1 очко 2 очка 7 месяцев назад (0 дочерних комментарев)
[–]Ashanmaril Pixel 3 43 очка 44 очка 45 очков 7 месяцев назад (4 дочерних комментария)
[–]OldIndianMonk Google Pixel 3 XL 4 очка 5 очков 6 очков 7 месяцев назад (3 дочерних комментария)
[–]OldIndianMonk Google Pixel 3 XL 0 очков 1 очко 2 очка 7 месяцев назад (0 дочерних комментарев)
[–]aeiouLizard 0 очков 1 очко 2 очка 7 месяцев назад (0 дочерних комментарев)
[–]StockAL3Xj OnePlus 7 Pro 5 очков 6 очков 7 очков 7 месяцев назад (0 дочерних комментарев)
[–]OldIndianMonk Google Pixel 3 XL 2 очка 3 очка 4 очка 7 месяцев назад (1 дочерний комментарий)
[–]Pyrus01 Xiaomi Redmi 5 Plus 0 очков 1 очко 2 очка 7 месяцев назад (0 дочерних комментарев)
[–]dragonelite 0 очков 1 очко 2 очка 7 месяцев назад (0 дочерних комментарев)
[–]Minnesota_Winter Pixel 2 XL 1 очко 2 очка 3 очка 7 месяцев назад (0 дочерних комментарев)
[–]NateDevCSharp OnePlus 7 Pro Nebula Blue 39 очков 40 очков 41 очко 7 месяцев назад (3 дочерних комментария)
[–]moralesnery Xiaomi Redmi 5 Plus, Android 9.0 (AOSP) 29 очков 30 очков 31 очко 7 месяцев назад (2 дочерних комментария)
[–]SponTen GS10e Exynos 9 очков 10 очков 11 очков 7 месяцев назад (0 дочерних комментарев)
[–]gurgle528 Galaxy S3, S6 | Note 10.1 0 очков 1 очко 2 очка 7 месяцев назад (0 дочерних комментарев)
[–]bartturner 34 очка 35 очков 36 очков 7 месяцев назад (1 дочерний комментарий)
[–]Krojack76 14 очков 15 очков 16 очков 7 месяцев назад (8 дочерних комментарев)
[–]ProfessionalSecond2 Pixel 3a w/o google 8 очков 9 очков 10 очков 7 месяцев назад (5 дочерних комментарев)
[–]Rowan-Paul Samsung Galaxy A50, Android 9 Pie with OneUI 4 очка 5 очков 6 очков 7 месяцев назад * (4 дочерних комментария)
[–]n0rdic BlackBerry KEY2 + Galaxy Watch (2018) 5 очков 6 очков 7 очков 7 месяцев назад (3 дочерних комментария)
[–]Rowan-Paul Samsung Galaxy A50, Android 9 Pie with OneUI 2 очка 3 очка 4 очка 7 месяцев назад (0 дочерних комментарев)
[–]Mario_119 2 очка 3 очка 4 очка 7 месяцев назад (0 дочерних комментарев)
[–]sjphilsphan Samsung S20+ Verizon 3 очка 4 очка 5 очков 7 месяцев назад (0 дочерних комментарев)
[+] [deleted] рейтинг комментария ниже порога -22 очков -21 очков -20 очков 7 месяцев назад (6 дочерних комментарев)
[–]-togs Mi A2 8 очков 9 очков 10 очков 7 месяцев назад (1 дочерний комментарий)
[–] [deleted] -2 очков -1 очков 0 очков 7 месяцев назад (0 дочерних комментарев)
[–]RosemaryFocaccia Oneplus 0 очков 1 очко 2 очка 7 месяцев назад (3 дочерних комментария)
[–] [deleted] 0 очков 1 очко 2 очка 7 месяцев назад (2 дочерних комментария)
[–]RosemaryFocaccia Oneplus 0 очков 1 очко 2 очка 7 месяцев назад (1 дочерний комментарий)
[–] [deleted] 0 очков 1 очко 2 очка 7 месяцев назад (0 дочерних комментарев)
о reddit
блог
о reddit
реклама
careers
помощь
правила сайта
Reddit help center
реддикет
mod guidelines
связаться с нами
приложенияи инструменты
Reddit for iPhone
Reddit for Android
mobile website
Использование данного сайта означает, что вы принимаете пользовательского соглашения и Политика конфиденциальности. © 2020 reddit инкорпорейтед. Все права защищены.
REDDIT and the ALIEN Logo are registered trademarks of reddit inc.
π Rendered by PID 23181 on r2-app-0a0d468cfb5c14f71 at 2020-05-21 22:28:53.488188+00:00 running 4e7c54c country code: CH.
5 приложений, которые нужно удалить с Android прямо сейчас
Погодные приложения, оптимизаторы, дефолтный браузер — от этого всего лучше избавиться.
Facebook и другие социальные сети
Социальная сеть Facebook является сегодня самой популярной в мире, поэтому неудивительно, что соответствующее мобильное приложение установлено у огромного количества пользователей. Мобильный клиент позволяет вам получать уведомления о новых лайках, постить фотки своей еды и всегда оставаться на связи с друзьями. Однако взамен это приложение потребляет огромное количество системных ресурсов и значительно уменьшает срок работы мобильного гаджета от батареи. Согласно ежегодному отчёту App Report 2015 AVG Android App Report, именно мобильный клиент Facebook занимает верхние строчки в хит-параде самых прожорливых программ на платформе Android.
Альтернатива. Используйте мобильную версию Facebook в любом современном браузере. Функциональность отличается ненамного, зато отсутствуют раздражающие уведомления и стремительно тающая батарея.
The Weather Channel и другие погодные приложения
The Weather Channel — отличный пример того, как на самой простой функции — отображении прогноза погоды — разработчики умудряются выстроить целый мегакомбайн. Здесь вы увидите и анимированные обои, и метеорологические карты, и букет интерактивных виджетов, и бог знает что ещё. Всё это хозяйство сидит в оперативной памяти устройства, каждые пять минут стучится в интернет и, разумеется, самым бессовестным образом съедает заряд вашей батареи.
Альтернатива. Выгляните в окошко — вы получите гораздо более надёжную информацию, чем то, что показывает виджет рабочего стола. Если необходим прогноз, то Google предоставит вам самое надёжное предсказание на неделю вперёд.
AntiVirus FREE и другие антивирусные программы
Дискуссия о том, нужны ли антивирусные программы на устройствах под управлением Android, иногда бывает довольно горячей. Я придерживаюсь мнения, что если вы не получаете root-права на устройстве и не устанавливаете взломанные программы из сторонних сомнительных источников, то антивирус вам не нужен. Компания Google бдительно следит за содержимым своего магазина и моментально удаляет из него все потенциально опасные элементы, поэтому всегда активный мониторинг антивируса будет только зря тормозить ваш смартфон или планшет.
Альтернатива. Если возникли всё-таки сомнения в здоровье гаджета, то установите антивирус, просканируйте, а затем удалите его.
Clean Master и другие оптимизаторы системы
Вера в чудеса является самой главной движущей силой для распространения разных «очистителей» и «оптимизаторов». Мол, сотни лучших программистов Google не смогли довести свою систему до ума, а вот этот изобретатель-одиночка взял и сделал! Спешим вас расстроить: большинство подобных приложений либо вообще ничего не делают, либо наносят только вред. Очистить кэш, удалить остатки старых программ можно и встроенными системными инструментами. Очистка же памяти на самом деле только замедляет запуск программ и работу Android вместо обещанного создателями утилит ускорения системы.
Альтернатива. Используйте имеющиеся в Android инструменты для очистки кэша приложений. Забудьте об оптимизации памяти.
Дефолтный браузер
Некоторые производители и разработчики сторонних прошивок снабжают свои творения специальными версиями браузера. Как правило, в них намертво вшиты ссылки на сайты рекламодателей и другой ненужный вам контент. Кроме этого, никто не может поручиться, что такой браузер не сливает вашу информацию налево. Лучше никогда не использовать подобную программу и вообще, если это возможно, удалить её из системы.
Альтернатива. Для Android существуют десятки хороших браузеров, но самым надёжным и быстрым является, несомненно, Google Chrome. Он функционален, обладает поддержкой самых современных веб-технологий, умеет экономить мобильный трафик и обладает простым и понятным интерфейсом.
А какие приложения вы считаете самыми вредными на платформе Android?
Adding a New Device
Use the information in this page to create the makefiles for your device and product.
Each new Android module must have a configuration file to direct the build system with module metadata, compile-time dependencies, and packaging instructions. Android uses the Soong build system. See Building Android for more information about the Android build system.
Understanding build layers
The build hierarchy includes the abstraction layers that correspond to the physical makeup of a device. These layers are described in the table below. Each layer relates to the one above it in a one-to-many relationship. For example, an architecture can have more than one board and each board can have more than one product. You may define an element in a given layer as a specialization of an element in the same layer, which eliminates copying and simplifies maintenance.
Using build variants
When building for a particular product, it's useful to have minor variations on the final release build. In a module definition, the module can specify tags with LOCAL_MODULE_TAGS , which can be one or more values of optional (default), debug , and eng .
If a module doesn't specify a tag (by LOCAL_MODULE_TAGS ), its tag defaults to optional . An optional module is installed only if it's required by the product configuration with PRODUCT_PACKAGES .
These are the currently defined build variants.
Guidelines for userdebug
Running userdebug builds in testing helps device developers understand the performance and power of in-development releases. To maintain consistency between user and userdebug builds, and to achieve reliable metrics in builds used for debugging, device developers should follow these guidelines:
userdebug is defined as a user build with root access enabled, except:

userdebug-only apps that are run only on-demand by the user
Operations that run only during idle maintenance (on charger/fully charged), such as using dex2oatd versus dex2oat for background compiles

Don't include features that are enabled/disabled by default based on the build type. Developers are discouraged from using any form of logging that affects battery life, such as debug logging or heap dumping.
Any debugging features that are enabled by default in userdebug should be clearly defined and shared with all developers working on the project. You should enable debugging features only on a limited-time basis until the issue you're trying to debug is resolved.
Customizing the build with resource overlays
The Android build system uses resource overlays to customize a product at build time. Resource overlays specify resource files that are applied on top of the defaults. To use resource overlays, modify the project buildfile to set PRODUCT_PACKAGE_OVERLAYS to a path relative to your top-level directory. That path becomes a shadow root searched along with the current root when the build system searches for resources.
The most commonly customized settings are contained in the file frameworks/base/core/res/res/values/config.xml.
To set up a resource overlay on this file, add the overlay directory to the project buildfile using one of the following:
Then, add an overlay file to the directory, for example:
Any strings or string arrays found in the overlay config.xml file replace those found in the original file.
Building a product
You can organize the source files for your device in many different ways. Here's a brief description of one way to organize a Pixel implementation.
Pixel is implemented with a main device configuration named marlin . From this device configuration, a product is created with a product definition makefile that declares product-specific information about the device such as the name and model. You can view the device/google/marlin directory to see how all of this is set up.
Writing product makefiles
The following steps describe how to set up product makefiles in a way similar to that of the Pixel product line:
Create a device/ / directory for your product. For example, device/google/marlin . This directory will contain source code for your device along with the makefiles to build them.
Create a device.mk makefile that declares the files and modules needed for the device. For an example, see device/google/marlin/device-marlin.mk .
Create a product definition makefile to create a specific product based on the device. The following makefile is taken from device/google/marlin/aosp_marlin.mk as an example. Notice that the product inherits from the device/google/marlin/device-marlin.mk and vendor/google/marlin/device-vendor-marlin.mk files through the makefile while also declaring the product-specific information such as name, brand, and model.
See Setting product definition variables for additional product-specific variables that you can add to your makefiles.
Create an AndroidProducts.mk file that points to the product's makefiles. In this example, only the product definition makefile is needed. The example below is from device/google/marlin/AndroidProducts.mk (which contains both marlin, the Pixel, and sailfish, the Pixel XL, which shared most configuration):
Create a BoardConfig.mk makefile that contains board-specific configurations. For an example, see device/google/marlin/BoardConfig.mk .
Create a vendorsetup.sh file to add your product (a «lunch combo») to the build along with a build variant separated by a dash. For example:
At this point, you can create more product variants based on the same device.
Setting product definition variables
Product-specific variables are defined in the product's makefile. The table shows some of the variables maintained in a product definition file.
How to Debug Android Chrome From Your Windows PC
Developing websites to work on mobile platforms is common practice and is practically required for anyone making a website. Mobile traffic represents a significant portion of total internet traffic–somewhere around half by most estimates.
The problem is testing and debugging websites and apps on mobile devices. Mobile devices like Androidв"ў don't have built-in debuggers, and emulating mobile devices is never as accurate as you'd like. To debug Android, the desktop version of Chrome has a solution: remote debugging.
This article will show you how to use debug Android Chrome from your Windows PC.
Raygun lets you detect and diagnose errors and performance issues in your codebase with ease
How to debug Android Chrome
If you think you might have an Android bug but can't quite pin it down, Raygun supports Android crash reporting.
Setting up
Before you can do any debugging, you need to set up your computer to be able to recognize your Android device and allow Chrome's debugger to recognize and attach to the phone. You will start by setting some options on the phone.
Phone settings
Open up the Settings app on your phone. From here, if you're on Android 4.1 or lower, I feel sorry for you, but also, you're free to go straight to "Developer options". On devices with newer versions of Android, you'll need to enable Developer options if you haven't already. To do this, you'll need to go to the "About Phone" menu, which is located inside the System menu on Android 8+. Once you're in there, scroll to the bottom and tap on Build Number seven times. Now, go back to the previous screen, and you'll find Developer options near the bottom.
Once you're inside Developer options, you'll need to enable developer tools by clicking the toggle at the top of the page. When the toggle says "On", scroll down a bit and enable Android USB Debugging as well.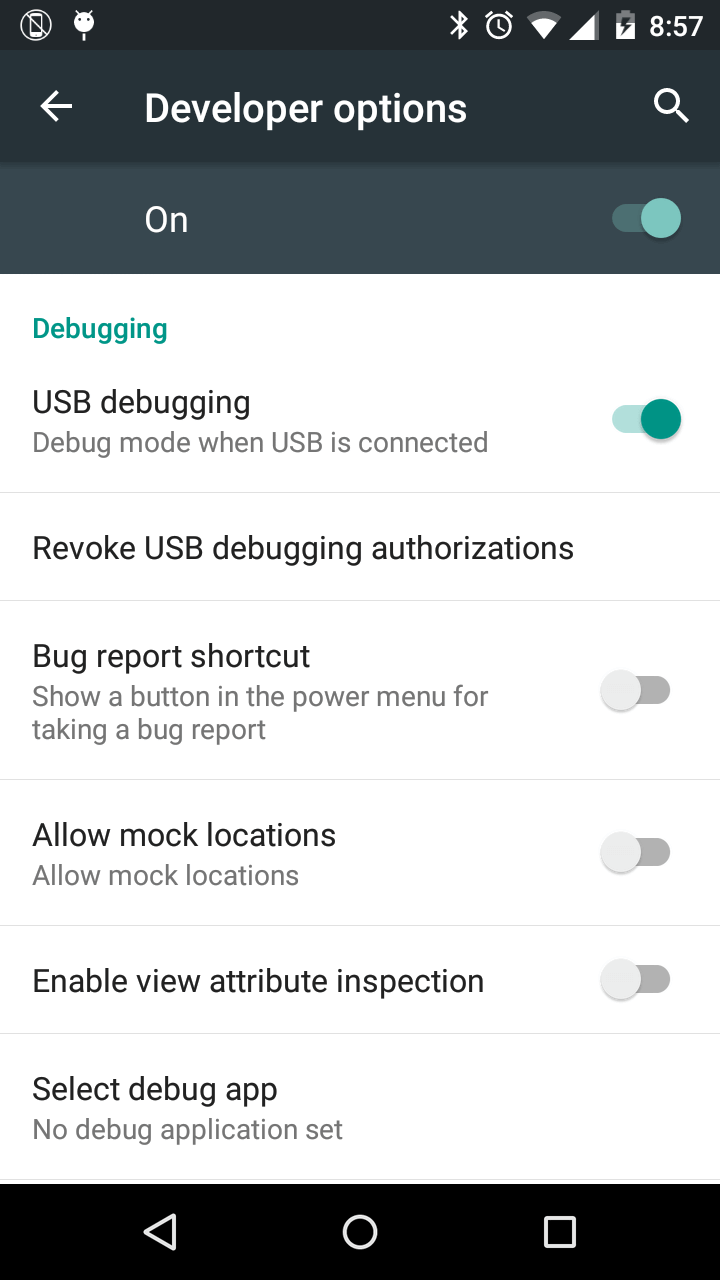 Computer setup (using Android USB debugging)
That's all we can do on the phone, for now, so let's get our computer ready. To debug Android, the first thing you'll need to do is install the USB drivers for your phone. The Android Studio site has a list of places to find the drivers along with some instructions on how to install the drivers on your computer. Some manufacturers have links directly to a driver file, while others just lead you to a support website, in which case you'll need to do a bit of searching to find the drivers for your device.
Once you've got the driver installed, you'll also need ADB, which provides an interface to talk to your mobile device. You can do this by going to a thread on the XDA Forums; scroll down to Downloads heading and click the first link in that section. After it's downloaded, run it to install ADB. Once it's installed, you'll need to navigate to the folder where it was installed ( C:Program Files (x86)Minimal ADB and Fastboot by default) and double-click cmd-here.exe , which will conveniently open a command prompt window in that folder. In that window, type in adb start-server to start the ADB server. You can now close the command prompt.
*Note: The ADB server will need to be on anytime you wish to debug. If you restart your computer, the server will not be running. If you would like the server to start up automatically with your computer, open up any text editor and type in «C:\Program Files (x86)\Minimal ADB and Fastboot\adb» start- server . Save it as adb.bat (or any file name as long as it has the .bat extension) in the C:ProgramDataMicrosoftWindowsStart MenuProgramsStartUp folder. Now that file will be executed at startup, so the ADB server should be up and running anytime you need it.
The last thing we need to do to set up the computer is to enable remote debugging in the Chrome developer tools. To do this, open up Chrome on your computer, and then open the Chrome developer tools by pressing Ctrl+Shift+I , or F12 . In the top-right corner of the developer tools, click the menu icon that looks like three dots, navigate to "More tools" and then click "Remote devices".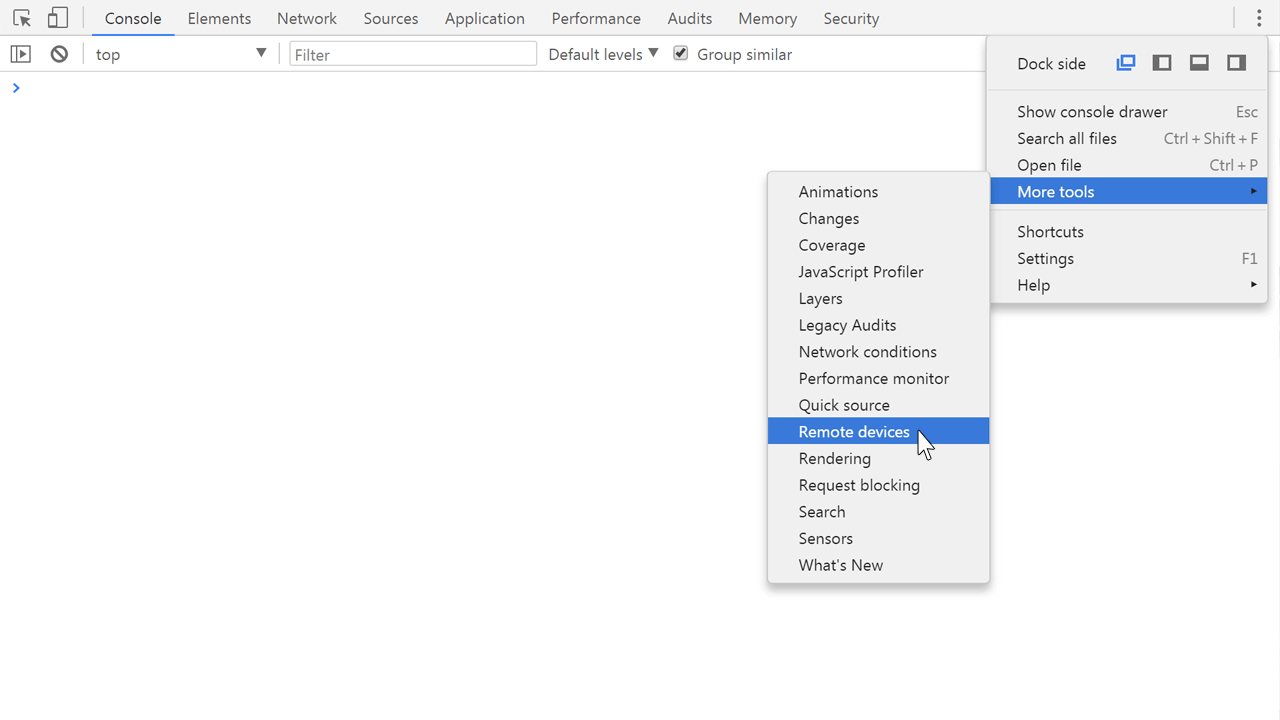 To debug Android from here, just make sure "Discover USB devices" is checked and keep this section of the developer tools open because we'll need it again soon.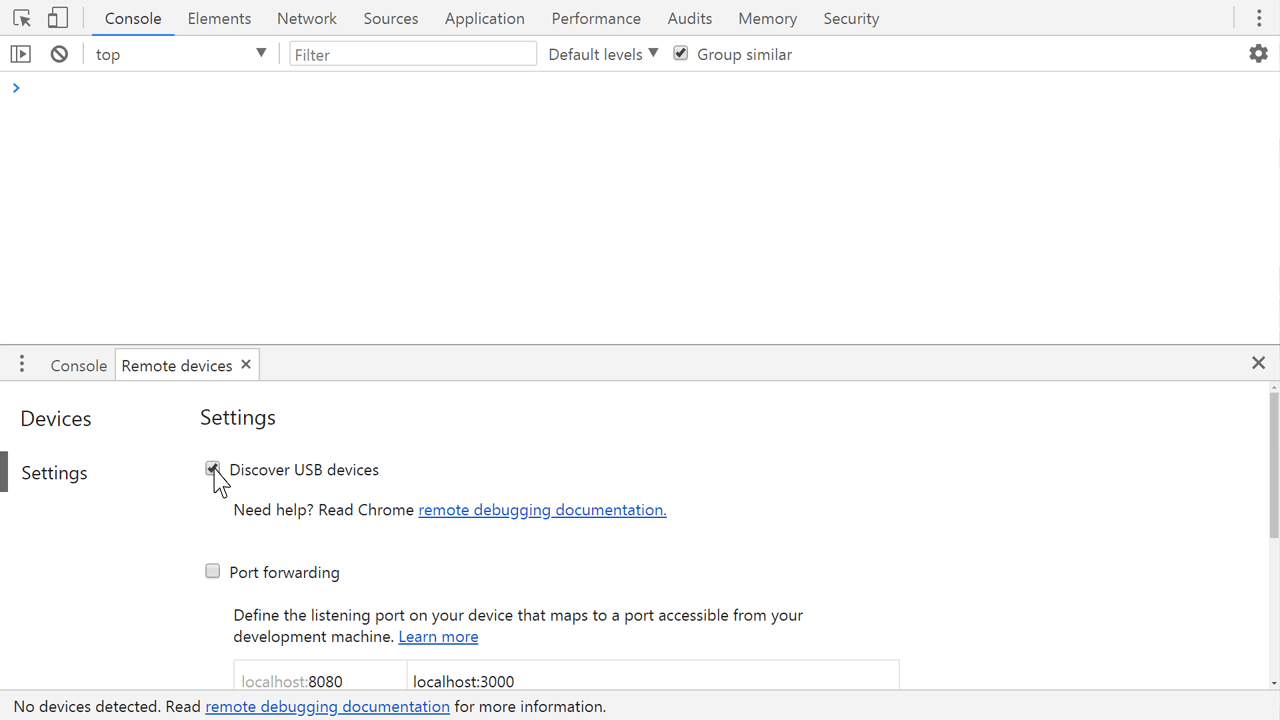 "Discover USB devices" should be checked.
Making the connection
That's as far as you can get with either device on its own. To debug Android, we'll need to hook them up together. If you haven't already, plug your phone into your PC via USB. If you didn't do this as part of the driver installation, you'll probably see a notification on your taskbar letting you know your computer is setting up your new device. Make sure your phone is on and unlocked. If it is and the ADB server is running, you should see a popup titled "Allow USB debugging?".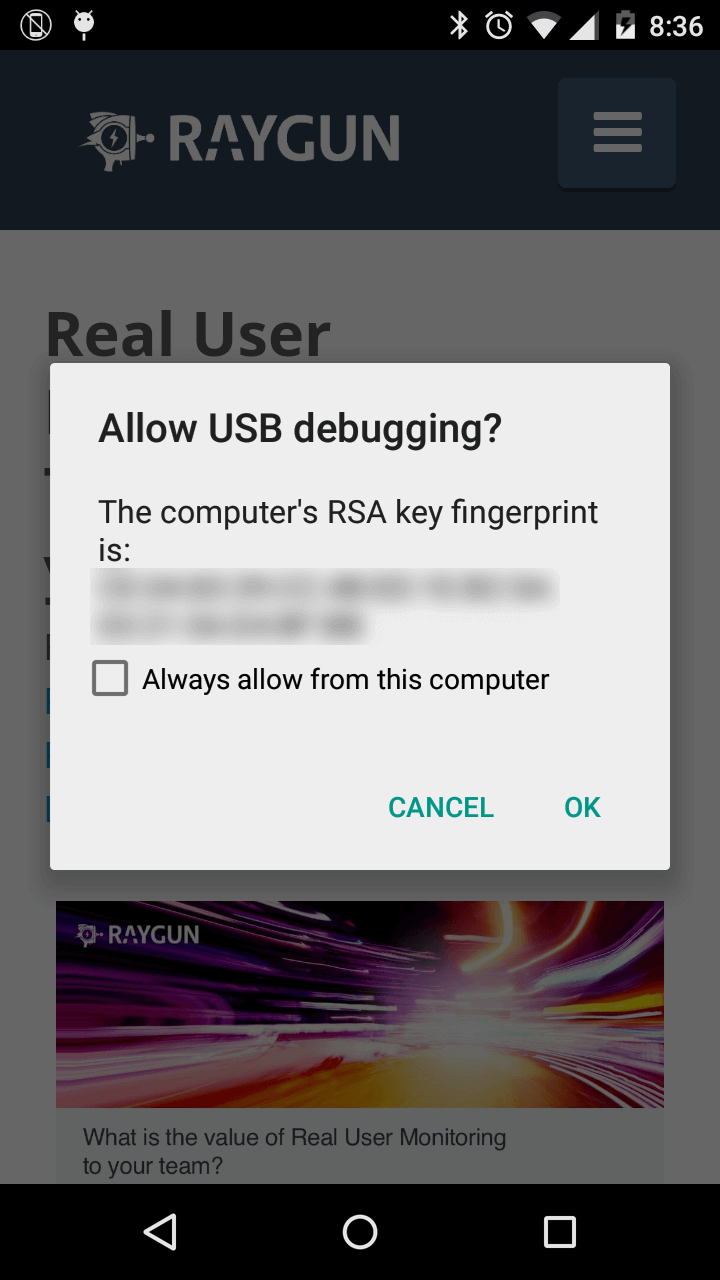 If it doesn't show up, look in your notification area on your Android device. If it says "Connected as a media device", something similar to that, or something about "MTP". Click on it.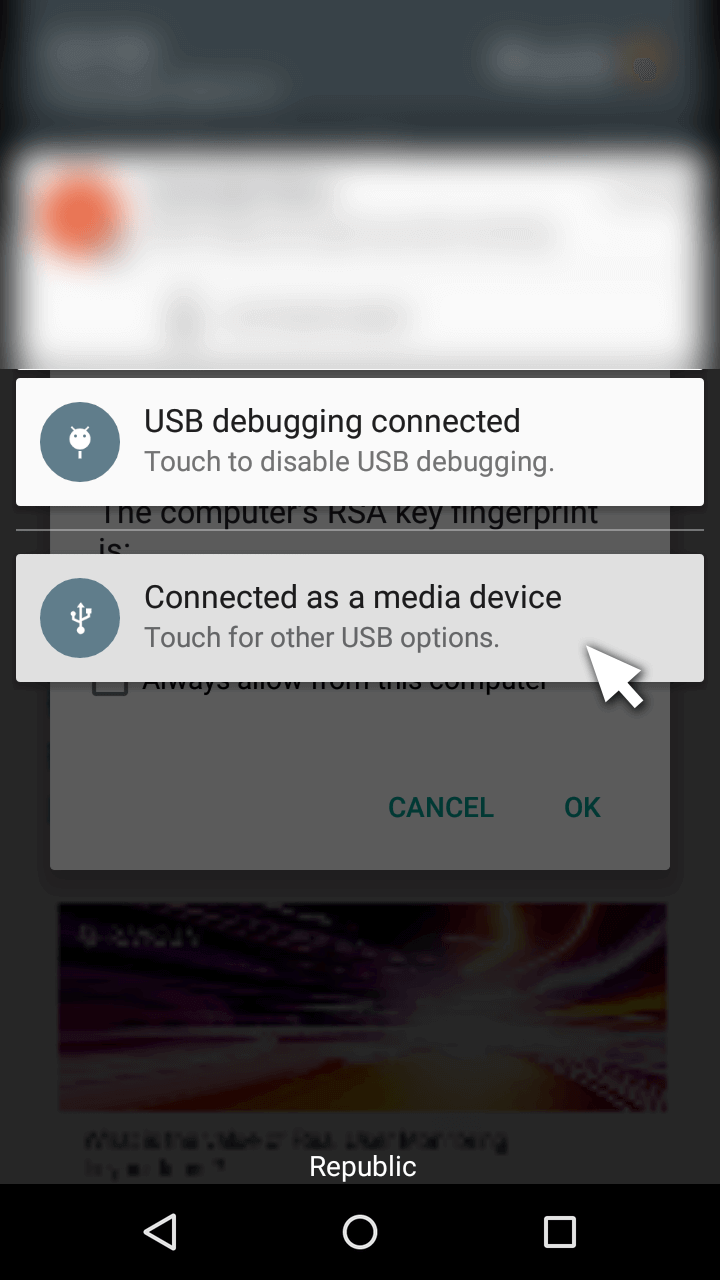 Choose "connected as media device"
That should bring you to a screen that allows you to choose "Camera (PTP)" as the connection type, rather than "Media device (MTP)". Once you've selected PTP, the "Allow USB debugging?" popup should be there.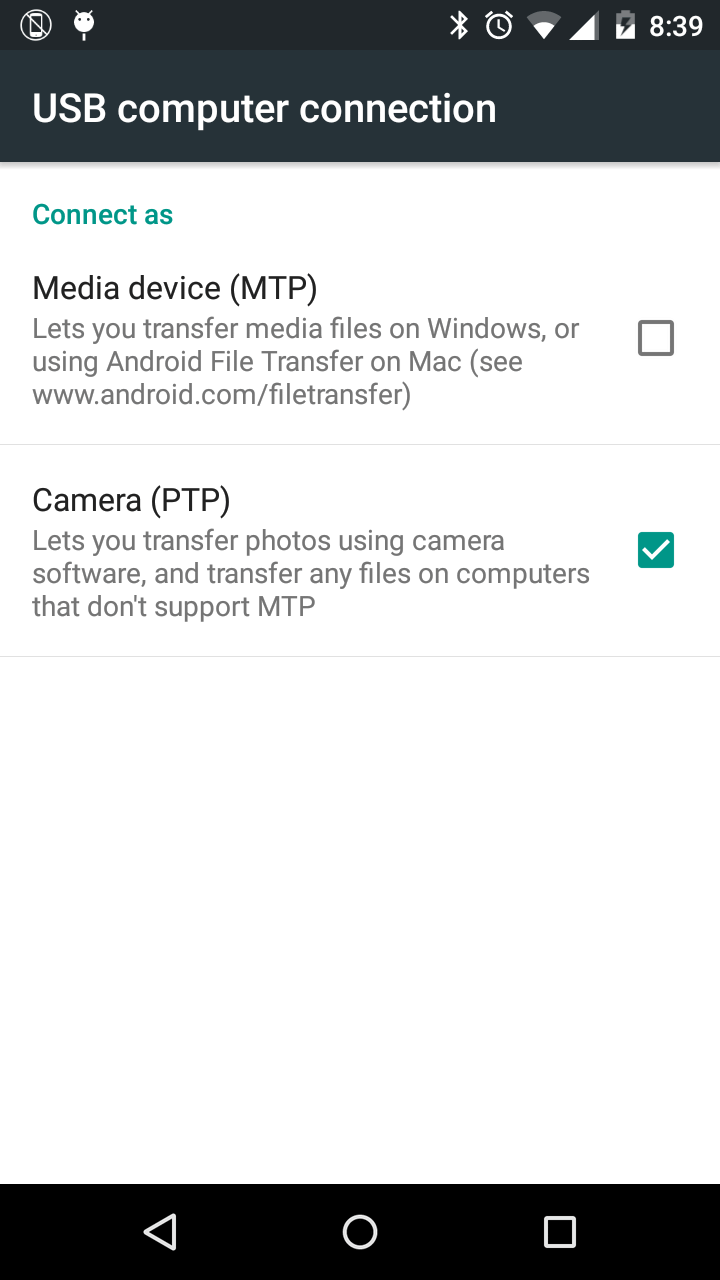 If you'd like to avoid having to deal with this popup every time you hook up your device, check the "Always allow from this computer" option. Either way, you'll want to click "OK", which will let your mobile device be visible to your PC for debugging. At this point, look at the "Remote devices" section of your Chrome developer tools on your PC again. If everything went well, you should see your phone listed on the left side.
Debug Android on your device
Now it's time to stop getting set up and start debugging! Finally! Click on the name of your phone on the "Remote devices" screen. You should see a list of tabs open in the Chrome browser on your remote device. If the tab you want to debug isn't the active tab, click the three dots to the right of that tab's name and click "Focus" to make it the active tab. Then click the "Inspect" button.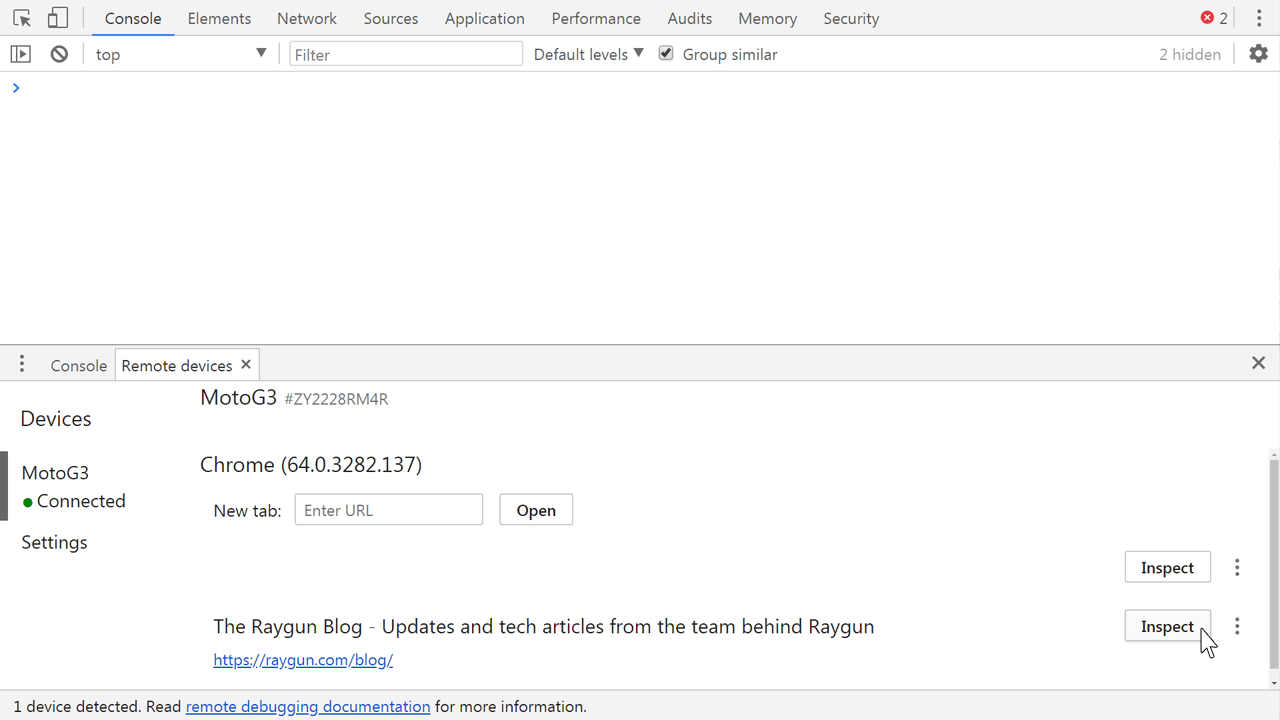 This should bring up the inspector for that tab. From here, you can use Chrome's developer tools pretty much just like you would if you were debugging a web page loaded into your desktop browser. You're even able to see your device's screen within the developer tools. If it isn't already showing, or if you'd like to toggle it off, click the icon right next to the inspector icon in the top left corner of the developer tools.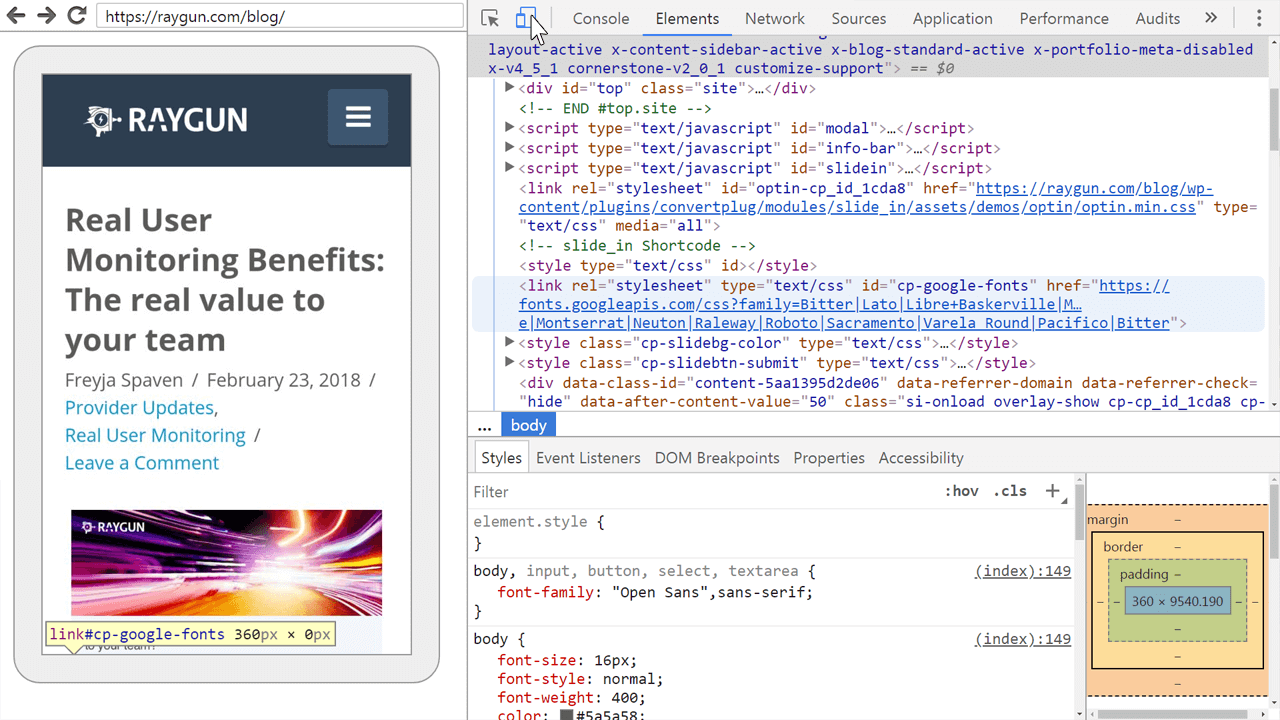 Debugging Tips
You can also control your device from your developer tools. Use your mouse cursor on the screencast as if your cursor was a finger on the device itself.
Click to tap
Click and drag to swipe
Use your scroll wheel to scroll
Hold Shift while dragging up to zoom in
Hold Shift while dragging down to zoom out
You may notice that there are some transparent spots in the screencast. These are UI elements from the Chrome app or from your device's system interface. They are hidden because the remote debugging protocol only allows you to interact with the web page itself, not with the entire phone.
The screencast uses a lot of your mobile device's processing power, so you might notice the performance seems slow while you are screencasting. Therefore, if you're trying to measure performance, disable the screencast and interact directly with the mobile device.
Finally, if you run into issues where nothing happens when you interact with your device either directly or via the screencast, try closing the Chrome app and reopening it. (You'll need to re-connect to the remote device via the "Remote devices" screen in the developer tools). If that doesn't help, go through this quick checklist:
Unplug the device and plug it back in
Lock your phone and wake it back up
Close the developer tools window and reopen it via the "Remote devices" screen.
Conclusion
Debugging Android Chrome doesn't have to be difficult. It may take a bit more setup than most of us would like, but once that's taken care of, debugging a mobile web page becomes much simpler. You can now debug Android on a real, physical device instead of hoping Chrome's device emulator–or any other emulator for that matter–will act just like the real thing.
Did you spend too much time discovering the Android bug in the first place? Raygun helps you detect, diagnose and destroy Android errors. Smart alerts and error grouping means you never miss a bug in your app again. Read more about Android crash reporting here.
Further reading
Performance Matters
The best software performance articles from around the web delivered to your inbox each week.
Your information is safe with us. Read our privacy policy.