Best app to control your PC
How to Control PC from Android
Most of us have experienced the moment when you try to watch a movie or play music on your PC from your bed in the distance, only to find out that the scene is awful or the sound is terrible. In these times you wish you could change to another program or adjust the sound slightly while staying in the comfort of your pillow, but you cannot reach out to your mouse or keyboard which makes the moment completely ruined. At this point, you can wonder how amazing it would be if you could remote control your PC from your Android from the distance. To solve this crucial issue, we looked through all the possible options to bring you the best apps to take control over your PC with your Android smartphone easily and conveniently.
Top Ways to Control Laptop from Android
ApowerMirror – Control PC from Android
For those who want to easily control PC from Android, ApowerMirror would be the best bet, which is a popular screen mirroring application allowing users to manipulate Android screen with mouse and keyboard. One of the outstanding features of ApowerMirror is that it empowers you to smoothly control your Windows PC from your Android devices. Go ahead with the guidance below to learn how to make it.
Download and install ApowerMirror on your Windows PC.
Also install this app on your Android devices.
Make sure that your PC and Android device are under the same WiFi network.
Click the blue button on the Android device to search for your computer. Choose the name of your Windows PC.
Tap on "Computer Screen Mirroring" and then you will find your computer screen is mirrored to your Android phone.
At the same time, you can also control your PC from your Android without limits. Amazingly, on your Android, you can directly make marks and drawing on your PC screen.
ApowerMirror not only can control your PC from Android devices, but also enables you to control Android devices from computer. There are many other attractive features and you can download it and have a try.
Unified Remote – How to Control Your PC from Your Android
Unified Remote is a useful app for controlling your Windows PC from your Android with the potential to control more than 100 programs. It turns your Android smartphone into a multi-touch mouse and casts your PC screen to your mobile. It also empowers you to control different apps like Spotify, Netflix, YouTube, and so on. As long as you install this app, you will save yourself much more energy in managing your PC. Follow the steps below to learn how to control your PC from your phone:
Pop over to its official website and install this app on your Windows PC. This app will insert a driver that allows Unified Remote to control your laptop using Android.
Download and install this application on your smartphone. The app will automatically scan the network to find the PC running the same server.
Configure your computer and Android to be the same Wi-Fi network so as to make a successful connection.
Once connected, you can choose from a list of remote controls to control your PC from your phone. For example, the "Basic Input" uses your Android screen as a trackpad to control the mouse cursor.
Now you can just use Unified Remote, relax on your couch and you'll not need to get up off your couch to do something again on your PC. If you still think this app does not meet your requirement, Remote Control Collection would be another good option.
Remote Control Collection – Control Laptop from Android
The Remote Control Collection is another good app that you can use to wirelessly manipulate your Windows PC. It contains many remote control options such as mouse, keyboard, speech recognition, live screen, media player, and slideshows. However, for some advanced remote functions, you need to purchase its Pro version. Go ahead with the guidance below on how to control PC from Android.
Install the Remote Control App on your Android phone and install the Remote Control Server on the computer that you intend to control.
Remember to configure your Android and PC to be the same WiFi network.
Open the Remote Control Server on your PC for the first time where it will show you the local IP address.
Open this app and tap on "Devices" to add your PC to the app.
Connect your Android with your PC by filling in this app with the local IP address and making a name for the server. Afterwards, you can connect your phone with your PC.
Go back to the main menu and click on "Remote" to control your laptop from your phone.
There are many other applications which you can use to control PC from Android, but we believe the ways mentioned above are the best options. We warmly welcome you to make comments below, so that we can know what you think about our choices, and also are looking for recommendations on more apps, if you believe we missed anything important.
5 Apps to Remote Control Android Phone from PC (USB and WiFi)
I, like countless others, use my Android phone to make calls, send and receive messages, manage my daily tasks, check the calendar, do banking, send emails, check my schedule, and… phew, got tired! Android phones are a powerhouse but I also use my PC a lot.
This presents a situation. How to manage two devices with very different OS and mechanism together? While there are ways to control desktop from your Android, I will be talking about some apps that you can use to control your Android phone from Windows computer.
Remote Control Android Phone from PC
1. DeskDock
One of the main reasons why I simply love working on my PC or laptop is because I can use a mouse and a keyboard. Ah, the beauty and the simplicity of these two input devices never ceases to amaze me. Just point and click away.
You will need a USB cable to connect to your Android and PC, which will turn your Android into a second screen. The app worked on my Windows PC, macOS, and my Linux powered Lenovo laptop. Though I didn't try, you can connect multiple Android devices to a single PC. Here is complete guide on how to use and setup Deskdock.
DeskDock will help you use your PC's mouse and keyboard on your Android. You can now click on the Phone app and make a call with your mouse. Type and send a text message using your keyboard. Copy paste long, meaningless URLs.
There are two downside of using Deskdock. One it does not stream video like a you get in Google Remote Desktop or any VNC type application. Two, in order to run the app, you need to install the Java Runtime Environment (JRE) on your PC, which might open security loopholes in your system.
The free version will only work with the mouse while the paid version, priced at $5.49, will add keyboard functionality, remove ads, and add a drag and drop feature.
DeskDock is cool but limited in several ways as you will find out how.
2. AirDroid
I use AirDroid on a very consistent basis. It helps me manage and transfer images and photos, use a mouse or a keyboard, offer a clipboard, and see all notifications. Unlike DeskDock, where you have to use a USB cable and install a bunch of drivers and softwares, AirDroid offers a simple approach to remote control Android phone from PC.
Airdroid works like WhatsApp Web. You begin with the installation of the app from Google Play Store. Once done, open the app. You'll see three options, choose AirDroid Web. Now, open web.airdroid.com in your browser. You can either sign in or scan the QR code with your Android phone. I can now see my Android home screen in the browser will all the apps and files easily accessible.
This really simplifies life for me as it will for you. Here is a sneaky tip. Place the mobile with the front or back camera towards your kid's room and use AirDroid to see what they are up to. You can also mirror your Android screen on your computer using Airdroid by clicking on the screenshot icon on Airdroid web UI.
While you can partly control your Android using Airdroid (like access SMS, File system, device camera, Mirror screen etc) there is not way to simulate mouse click or even use computer keyboard on Android, like we did in DeskDock. In the past, Airdroid also had some security vulnerabilities.
Airdroid follows a freemium model. For most part, the app is free to use, however, there is a monthly subscription plan starting at $1.99 that will remove 30 MB file size limit (100 MB for pro users), remove ads, offer priority support, and allow remote call and camera access.
The main difference is that the free plan comes with 200 MB data transfer limit while the pro version will offer unlimited data transfer. There is also a desktop client available to download.
3. Vysor (Chrome Addon)
Vysor is a popular Chrome addond solution to access and use Android apps and services on your PC. Chrome is available on pretty much every OS there is. Recently, vysor also released their desktop client.
You can install the addon in under a minute. Alternatively, you can also use the Android app for which you will need to install the PC client. I will be testing the Chrome addon because I love stuff that works in browser. Enable USB debugging on your Android phone in developer options. Download ADB drivers for Windows. Install the drivers and launch it to connect to your Android phone. Note that you will need a USB cable for Vysor to work.
After a recent update, Vysor also support WiFi, however you'll need a pro version for it.
Price: The free plan will allow you to mirror and control your phone and also take screenshots. You have to pay to get the most from it, thankfully the paid plan is pretty cheap, priced at $10/y, which will add wireless functionality, full-screen mode, and add drag and drop feature.
I know, the process is a little complicated when compared to something like AirDroid, but its an option you can consider.
4. ApowerMirror
ApowerSoft is a well-known developer responsible for developing multiple apps and solutions for both individuals and businesses. ApowerMirror will simply allow you to mirror your Android screen on your PC. This will allow you to work with your mouse and keyboard, take screenshots, copy to clipboard and more.
The app supports both WiFi and USB option. There is no need to install additional drivers or softwares which is why this app made the list. Just scan a QR code. There is a desktop client available though. There is also an option to record screen and capture screenshots remotely.
Note that when you are mirroring your Android phone screen to your PC, the sound will be lost. There is visual support but no audio support.
The free version offers everything including mouse and keyboard support and screen recording but will add watermark, and not for commercial purposes. The personal version removes watermarks and the commercial version is for, well, commercial uses.
5. Scrcpy
Scrcpy, pronounced scrapy I think, is a new open source Android app that will allow you to mirror and control your Android phone via your PC using ADB tunnel and socket. This is for pretty advanced users or people who like tinkering around with tech until they get it right.
Available on GitHub, Scrcpy was built with speed, latency, performance, and lightness in mind. It works by creating a server on the host PC and allows the client to connect and communicate using and ADB tunnel. There is a detailed documentation available on GitHub.
You begin the installation process by download and installing the Windows package. You will now add the location of the adb.exe file inside the folder where you extracted the windows package above to the path variable. Still with me? Cool.
Note: For Windows 10 users, you can locate path variable at System Properties-Environment Variables-Path. This is where you click on Edit and New to enter the actual path to your adb.exe file. Click 'Enter' after entering the path.
Enable adb on your Android phone and connect. Now, enter 'scrcpy' in the command line in the extracted folder. And, you are done.
Scrcpy is open source and built from scratch and is completely free. The app is quick and offers a number of features like screen mirror, taking screenshots, and recording. I believe more will be added as the project takes off.
Wrapping Up: Remote Control Android Phone from PC
There are many ways to remote control Android phone using your PC. If you are looking for a web-based tool that can work with Chrome, Vysor is for you.
If you want a web-based tool that works with any browser, AirDroid is a cool app.
If you need a desktop client then ApowersoftMirror is a really good alternative.
For open source, I would recommend Scrcpy. It is the new kid on the block.
Also, you should note that wireless offers convenience but at the cost of speed. USB offers speed and reliability but at the cost of convenience. So, it really depends on what you want to do.
5 Best Apps To Control PC From Android Smartphone (2019)
In case, you're looking for some PC remote control apps for your Android.
T hink of those lazy weekends when you just don't want to move a muscle; or those chilling winter nights when you are comfortably enjoying a movie on your couch, and you wished you didn't have to leave your comfort zone to change the volume or skip tracks.
So, you may think, "Can I use my Android phone as a mouse?" Controlling devices with your mind through a brain-computer interface is not yet commercially viable. Nevertheless, we have Android apps that can work as a PC remote control.
Android apps that can control your other devices via local Wifi, Bluetooth, or from anywhere via the internet come in handy for remote administration. Best of all, some of them even provide screen sharing capabilities to gain complete GUI control of your desktop or laptop.
Note: This isn't a ranking list; it's a compilation of the best Android apps to control other devices. You're advised to choose one as per your needs.
5 Best Android apps to control PC from Android (2019)
KiwiMote
TeamViewer
Unified Remote
PC Remote
Chrome Remote Desktop
1. KiwiMote
KiwiMote is one of the highest-rated apps in the Play Store that allows you to control your computer using an Android phone over WiFi. It supports all versions of Android above 4.0.1.
A PC-side server needs to be installed on your desktop or laptop and requires Java to be installed in your system. The server is lightweight, only around 2Mb. Also, the server software is portable and runs on Windows, Mac, and Linux.
KiwiMote requires your phone and PC to be connected to the same WiFi router or hotspot. The connection is easy to set up and you can use your phone to scan the QR code displayed on your desktop. Alternatively, you can also enter an IP, Port, and a unique PIN to connect.
This PC remote control app provides essential features like keyboard, mouse, and gamepad work like a breeze. Furthermore, it has easy to use interfaces for many popular desktop applications, such as Adobe PDF Reader, GOM Player, KM Player, Pot Player, VLC Media Player, Windows Media Player, Windows Photo Viewer, and many others. However, you cannot view your computer's screen on your device.
KiwiMote is available for free and comes with ads. Get it on Google Play here.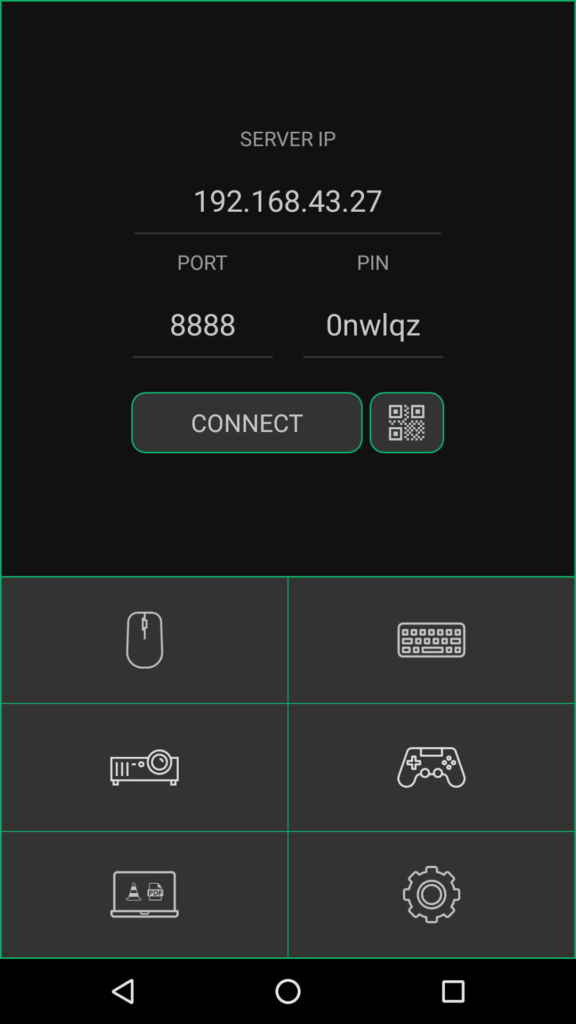 Also read: 19 Tips And Tricks To Make Android Faster And Improve Performance
2. TeamViewer for remote control
Using Teamviewer, you can configure your Android phone to control computers running on Windows, Linux, and macOS. You can even remotely control other Android devices or Windows 10 portable devices.
As you might know, TeamViewer is already a popular remote control app among the masses. What's great is that it doesn't require you to be on the same WiFi or local network. So, you can control your computer and share screen from virtually anywhere over the internet.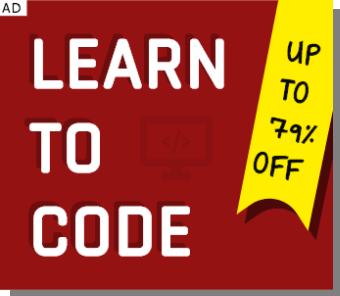 Install the desktop server from here. Upon installation, it provides you with a unique identification number. Enter this number on your Android device, and then you can operate it either in control mode or file transfer mode.
You do not need to worry about unauthorized access as Teamviewer uses 256 Bit AES Session Encoding and 2048 Bit RSA Key Exchange. You can also remotely lock or reboot your computer.
It has real-time screen sharing capabilities and provides responsive and robust communication. What more? Teamviewer can facilitate bi-directional data transfer between your devices and is also capable of sound and High Definition video transmission.
Get it on Play Store here.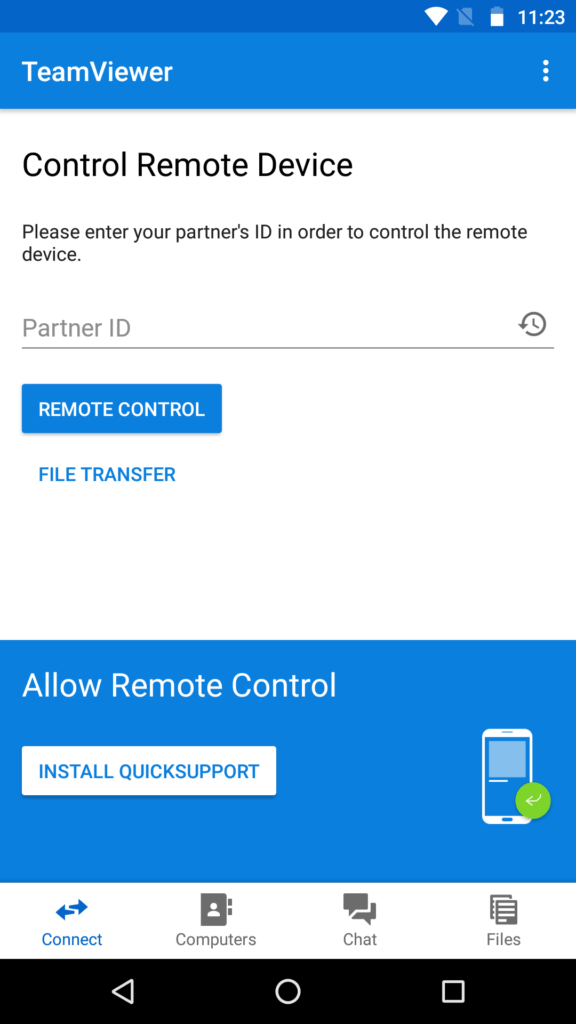 3. Unified Remote
Unified Remote has been in the app store for years now, and it is one of the go-to apps when it comes to controlling your PC from an Android device. This app uses Bluetooth or WiFi to remotely control your PC and comes preloaded with support for more than 90 popular programs. You can download its server-side desktop program here, and it supports Windows, Linux, and macOS.
Unified Remote supports Wake-on-LAN feature that you can use to wake up your computer from sleep remotely. It even allows you to control Raspberry Pi and Arduino Yun. Other useful features include a file manager, screen mirroring, media player control, and basic functions, like a keyboard and mouse with multitouch support.
Its "Floating Remotes" feature allows you to control your computer even while using other apps, but it is only available in the paid version. Other paid version features include custom remotes, widget support, voice commands, and helpful functions for Android wear.
Its free version comes with ads. Download it here.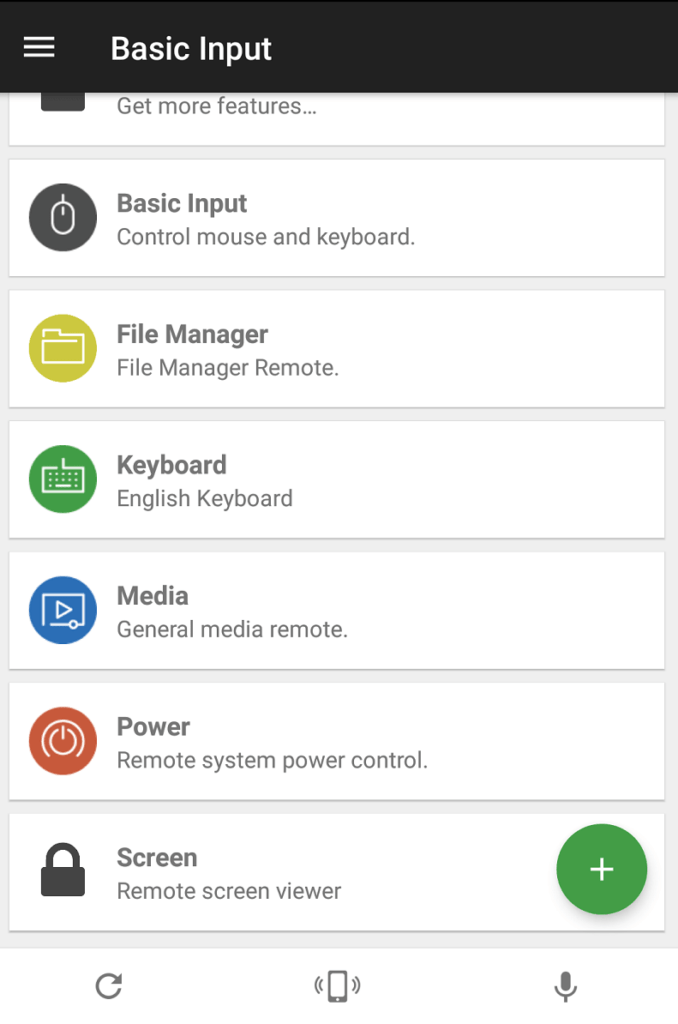 4. PC Remote
PC Remote runs on Windows XP/7/8/10 and can be used to control your PC from Android via Bluetooth or Wifi. PC Remote is easy to connect and packs a ton of features and its server-side desktop program is around 31MB.
All the useful features like a mouse, keyboard, and Powerpoint control are available within this app. The most powerful feature in this app is "Remote Desktop," which allows you to view your desktop screen in real-time and control it with touch input.
I managed to view videos without any lag using this feature, although you can't stream sound remotely. PC Remote has an inbuilt FTP server called "Data cable," using which you can access files on your smartphone on your computer. You can also view all the drives and files in your PC and open any content from your Android device.
One of the most intriguing features of this PC remote control app is that it has more than 30 classic console games that you can launch on your desktop with a tap, and play using the game controller in this app. There are many default gamepad layouts available. You can even make your own.
PC Remote is available for free and comes with ads. Download it from Google Play here.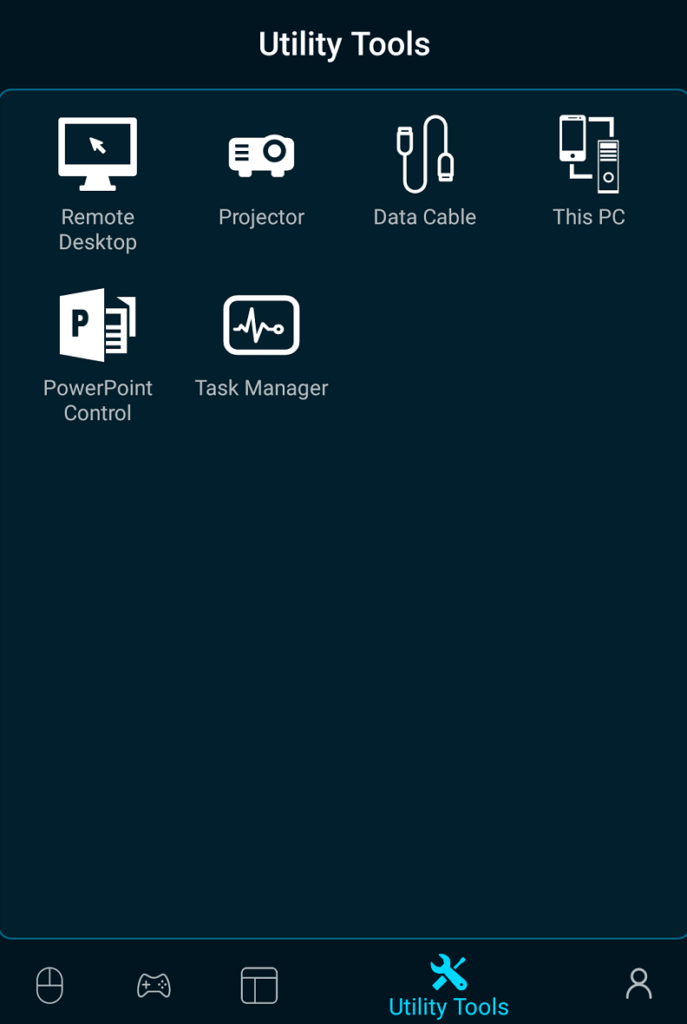 5. Chrome Remote Desktop
Made by Google, Chrome Remote Desktop allows you to view your computer and control it from anywhere remotely using your phone or any other computer. Of course, you need to have a Google account to use the remote sharing features.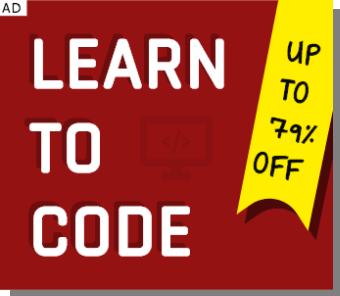 Chrome Remote desktop allows live screen sharing, and it is fast and responsive. You can use your Android device like a mouse or can also control your computer via touch response. One reason to recommend this free remote control app its easy setup process and good looking user interface.
You need to install the Chrome Remote Desktop app from this Play Store link. Chrome Remote Desktop extension for Chrome browser can be downloaded from this link.
You can read more on how to use Chrome Remote Desktop here in our in-depth article.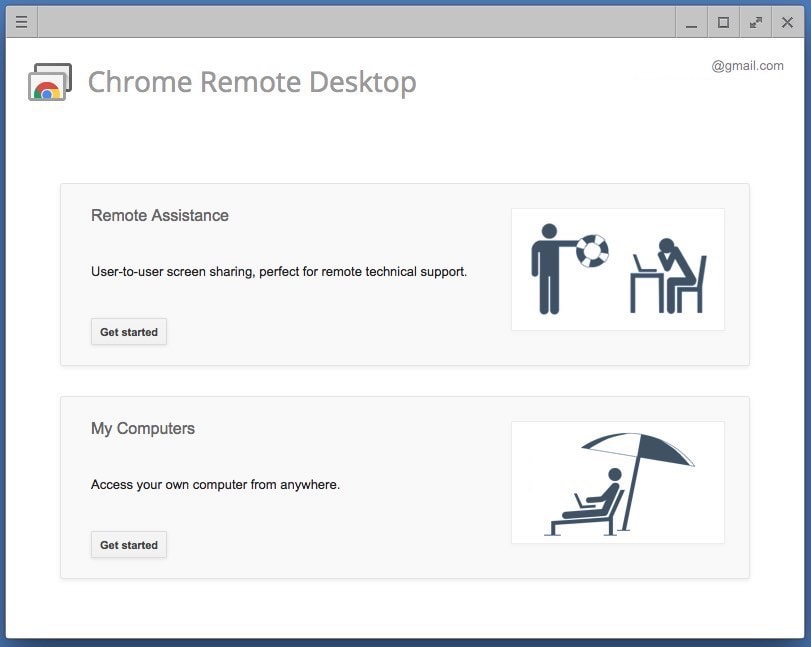 Did you find this list of Best apps to control PC from phone to be helpful? We tried to include both the app that lets you share your PCs screen on your phone and also the ones that turn your phone into a mouse and keyboard. So, you can pick any of these Android remote control apps depending on your usage.
Let us know if we missed out on anything in the comments below.
Check out other amazing apps that you can install on your Android phone:
Best Apps to Control Android from PC
Imagine yourself doing an important job on your computer then suddenly your phone rings or a text message comes in, so you will have to drop whatever your business is to get your phone and answer whoever it is. By the moment you hit the accept or send button, you've already shifted your attention from your PC to your phone. Therefore, you need to know more about how to display your phone screen on PC and control Android from PC to improve efficiency. Here is the detailed guide:
Best apps to control Android from PC
ApowerMirror
Whether you are using Mac or Windows, ApowerMirror can be your number one choice. This powerful mirroring application is designed to stream mobile contents of your Android and iOS to your computer. It also allows you to control Android screen from PC. Thus, you can use your mouse and keyboard to command Android devices. It is very useful when you need to send messages, post pictures or status update on Facebook, play games, and many more. Moreover, it adds a new functionality that allows mirroring of multiple Android devices at the same time. What makes this extra useful is that you can choose to connect your phone to PC wirelessly or with a USB cable. Before you start mirroring, download and install ApowerMirror on your laptop.
To further know how you can use this app to control Android from PC, please follow the simple guide below.
Enable USB debugging on your phone. Go to Settings > Developer Options > USB debugging, and turn on USB debugging.
Launch ApowerMirror on your PC, simply connect your phone to your computer with the USB cable. The app will be downloaded on your phone automatically.
Tap on your device once detected by your computer and click "Start Now" on your phone. Then you can control Android screen from PC.Note: If the Control from PC mode is disabled, connect your phone to your computer with USB cable to enable the function.
You can also connect your Android to PC via WiFi once you have ApowerMirror downloaded on your phone. Just open the app on your phone, tap "MIRROR" to search your computer and connect to it. Then you can control your Android from PC freely.
The app is popular not only because of its functionality to cast Android devices but also because it has an efficient recorder that can capture screen performance. Additionally, it allows you to take screenshots and add notes with the whiteboard marker.
Pros
ApowerMirror has a smart interface, which allows your phone screen to be viewed on a regular or full-screen size.
This app works on both Mac and Windows systems.
It can mirror 3 devices simultaneously.
Cons
Sound casting does not work for Android directly. You need to use Chromecast or Google Home to cast your audio to it.
Mobizen
Another great alternative to ApowerMirror is Mobizen. This is an application that allows mirroring of devices on the computer. It can run with or without installing any software. That means you will be able to view your Android using your browser or the desktop version of the app. The app is efficient in controlling Android from PC: you can reply to messages and post on social media accounts. Aside from that, it allows transferring files between your Android and computer, making it easier to manage your phone storage. Proceed to see how to control Android from the computer with Mobizen.
Install Mobizen on your Android device and computer. If you opt to use the web-based app, simply search for Mobizen on your browser.
Create a free account and sign in on both devices.
Enter the verification code displayed on your computer to your Android. And then, your phone will be automatically connected to PC, and you can control your Android from your PC.
Pros
It's easy to configure account.
It offers a web-based version, and can run without installing the app to PC.
Cons
Easily drain battery when connection is done via WiFi.
Display cannot be enlarged.
These are the two applications that can definitely help you control your Android device from the computer. You can make a choice for your own good. ApowerMirror is recommended due to its simple interface, easy operation and multiple functions. Now, you can easily manage your Android even when you're busy dealing with your business on PC.

These Android apps will help you control your Windows 10 PC remotely
Microsoft allows users to access Windows PC on your phone. Rather, multiple-platform access is a great way to be securely connected to your work all the time – if you want to, that is. But it also goes beyond that – with these Android apps you can do anything you would do on your Windows 10 PC, and you can do it all from your bed or your car, or while camping.
Android apps to control PC remotely using your phone
There are several Android apps which can control Windows 10 through your phone, via WiFi, Bluetooth or any internet connection available. There are basically two kinds of applications which help you to control Windows 10 computer with an Android phone – one does so through transferring the screen of your PC on your phone. While, the other uses a mouse, which is similar to a remote control for controlling a Windows computer with an Android phone. Here are the best android apps to control Windows 10 from the phone.
This Android app also uses Bluetooth or WiFi to control your Windows 10 PC, and its remote also has an incredible number of useful features. Besides a regular keyboard and mouse, you also have programs like Powerpoint and Excel. This app uses the Remote Desktop feature to let you view the home screen of your Windows 10 system. It also has more than 25 console games which you can play with the touchpad. What's more, it also has several layouts for gamepads, which lets you make your own game. This app can be downloaded here.
2] Chrome Remote Desktop
This app transfers your PC to your phone and lets you control it from there. It is accessed through a remote, and you need a Google account to use the features of the remote. One of the best features of this desktop app is the flawless screen sharing feature. Users have found this app to be incredibly helpful, as it makes it is practical and very user-friendly. You can use it with a touchpad, like on your phone, or you can get a mouse. The only thing you need is to be signed into Google Chrome with your Google id. This app could be downloaded from here.
KiwiMote is one of the best reviewed and widely used Android apps. It works through WiFi, and requires your system and phone to be connected to the same hotspot or router – you can do so by scanning a QR code, or you can ask for a Pin, to connect the two. But this app would require you to install Java on your system. Users have claimed that this app has the most responsive gamepad and mouse, and it also lets you use applications like Media Player and Adobe PDF – which are basically desktop applications. This app can be downloaded from here.
Possibly the most used Android app for Windows 10, TeamViewer also has a desktop version with which you can use one computer from another. The app is functional through a remote and also allows the easiest file transfers and supports more than one monitors. The app is hugely used in IT sectors – both the Android and the desktop version. It is the most reliable and responsive apps with which you can control your Windows 10 system. You can use your TeamViewer user ID and password to connect your phone to your PC via TeamViewer. This app could be downloaded from here.
5] Unified Remote
The app uses Bluetooth or WiFi to control the system and already has more than 75 programs pre-installed on it. Besides Windows, it also supports Linux and Mac. It converts your phone into a 'universal remote control,' You can also view your PC screen with this app, and it even works with additional keyboards like SwiftKey and Swipe. You can download a free version of the Unified Remote which will only offer you selective functionality, or you can access all its features for a one-time fee. This app could be downloaded here.
A remote-control based app from the makers of VNC (one of the best desktop sharing systems), the VNC Viewer lets you access the screen of your PC. It is one of the most commercially used android apps for using Windows 10 – most workplaces or IT employees rely on this app for off-site work through their phones. You can also check out their latest version VNC Connect. You can download the app here.
The performance remote app is great for more than one reasons. It is one of the most secure apps from which you can control your Windows 10 system, and is perfect for gaming, and especially racer games. This app is also popular with IT professionals, and they often use it to support their clients' systems. They have a free trial version for new users, but it is recommended that you should go in for the paid package for the better service. You can download the app here.
One of the best free Android apps, it also uses WiFi to connect to your Windows 10 systems. Though the Bluetooth option is also there. But this app is known for its many additional features, for instance, the Joystick Mode which lets you use your phone as a device for better gaming options. But this app is more suited for somebody who has some level of expertise in applications. You can download the app here.
Another brilliant app if you want to indulge in some gaming with your system, through your phone. It supports Android, Linux, and Windows and is superbly gamer-friendly. It even has a touch mouse for games which do not support an external mouse. It's also compatible with Android TV. The remote app is actually used by pro gamers, and it's not exactly recommended for regular IT work, as there are far better options for that. You can download the app here.
10] Microsoft Remote Desktop
How could we forget our good old Microsoft Remote Desktop app? Perhaps for Windows 10 users, this would be the most compatible application since it's from the same company. You can download the app here.
While choosing an app, to access your Windows 10 PC, be mindful of what you will use it for. If you want it for office work and keeping tabs on your CMS etc., go to Chrome Remote app or the KiwiMote. In case, you want to use your system for recreational uses, choose an app from the last four names in the list. If you have work and play on your list of agendas, it is recommended that you will use two separate apps for gaming and work, as it will make things much easier for you.
You might want to also check out the complete list of Microsoft Apps available for Android.
6 Best Apps to Control Any Android Device from Your PC
In this guide we'll show you how to control any Android device from a computer in 2019. Then, we'll share a list of the best apps to control Android from your PC or even Google Chrome. That way you'll have more ways to multitask, do more with your phone or tablet, plus it's a cool trick to show your friends and family.
There are several different reasons for using a computer to control your Android device. Whether that's playing games or apps on a bigger screen or responding to texts or WhatsApp messages from a computer. You can even do this to play Android games with a keyboard and mouse.
Additionally, this is a great tip for business users or teachers sharing emails and presentations on the big screen. I do this to play Clash of Clans on a 30-inch monitor. You'll find several apps with this functionality, and each one has slightly different features or controls.
Keep in mind that the setup process is different depending on which program you download. Some like Samsung's Sidesync are simple, while others take a bit longer. And yes, most of the apps on our list let you control Android from a Mac too. You can even use apps like Vysor to mirror Android inside the Google Chrome Browser so it works on any operating system.
Best Apps to Control Android from a Computer
ApowerMirror
Vysor for Chrome
VMLite VNC
MirrorGo
AirDROID
SamsungSideSync
TeamViewer QuickSupport
Each of these apps will share your entire Android experience on a computer. Whether that's just mirroring the display, or giving you full access to send messages, control the screen, and do more with your device. You could even do this to play Fortnite in your living room if an Android is all you own.
APowerMirror
First up is ApowerMirror, a powerful program that gives you absolute control over all aspects of Android from a computer. This will let you mirror your Android phone or tablet and control it with a keyboard and mouse. You can also use ApowerMirror to take screenshots, record your phone screen, and more.
There's no root or jailbreak access required, and it works on any Android device. My favorite aspect is the quick connect via USB or WiFi.
Setup only takes a few minutes. Simply download the app for both your Android device and PC or Mac then launch it and follow the instructions. Connect your Android using a USB cable or to the same WiFi network as your computer. Open ApowerMirror on your Android and tap Start Now.
The entire interface is clean, smooth, and easy to use. Tap on the toolbar off to the side for tons of controls and options. Give this app a try today.
Vysor for Google Chrome
Arguably one of the most popular tools to get Android on your computer is Vysor, which does everything inside the Google Chrome browser.
And because Chrome is available on almost every operating system, you can control your Android device from a PC, Mac, ChromeOS and more. They also have a dedicated desktop app, if you don't want to limit yourself to the Chrome browser.
There are a few different ways to use Vysor. One is the dedicated app and desktop client, and the other is inside Chrome. When you use a browser, you'll plug in a USB cable so your phone charges while it's streaming Android to the PC. To start, you'll need to enable USB Debugging in developer options, download ADB for Windows, then get Vysor for Google Chrome.
Next, just launch the program, click OK to allow the connection and plug-in the USB cable. Choose your Android device and start mirroring it right away. Personally, the dedicated app and desktop program is the best route. With Vysor, you can even share control of your Android device with other people, like a friend to help you troubleshoot problems.
VMLite VNC Server
Another option is VMLite VNC Server, which sets up Virtual Network Computing and gives you access to your phone from anywhere. This app is more complicated than most on our list, and it's not free, but it's more powerful at the same time.
Like Vysor, you'll need to enable USB debugging from developer options and set a few things up, then pay $9.99 for the app on the Google Play Store. Connect the two devices with a USB cable, run the program and it will automatically download the drivers for Windows. You'll also need the VMLite controller app, then hit start to enjoy the service. Here's a full setup guide for those interested.
If you're rooted, you can try DROID VNC Server for free instead.
MirrorGo
MirrorGo is another popular choice if you want to record and mirror games on Android. You can mirror your device to the PC and record everything at the same time. Then, easily upload gaming sessions to YouTube or Twitch. Even if you're not a gamer, it's a great option for controlling your Android phone from a computer.
Unless you're going to use MirrorGo often, we recommend trying some of the others first. Not because it's bad, but because after the free trial it costs around $6 a month. Or, just buy a 1-year subscription for $17 and save some money.
What makes MirrorGo great for gamers? Well, it offers fullscreen support in HD, mouse and keyboard support, screen capture and record, syncing game data and saves, and hotkeys for a better gaming experience. Basically, matching touchscreen controls to your keyboard. This is perfect for playing Fortnite or PUBG Mobile on a computer.
To start, download MirrorGo for Android, get the desktop program, launch them both and follow the on-screen instructions.
AirDROID Mirror
AirDROID is one of the most popular Android Emulators for PC, but that isn't all it has to offer. If you don't want to run an emulator use AirDROID Mirror to stream your screen to a PC. Like most on our list, you connect via USB or WiFi, so it's fast and easy. And just like Vysor, they have a Chrome extension that gives you more options and support for different operating systems.
Simply launch AirMirror inside AirDROID 3 to get started, and follow their easy to understand instructions. We really like the option to control your Android device at home, or remotely, inside Google Chrome. More information is available here.
Samsung SideSync
Millions of people own a Samsung Galaxy smartphone or tablet. As a result, the company builds a suite of tools that let you do more with your phone. And while SideSync is mainly meant to transfer data and files, or check for updates, it has a mirror option too. It comes pre-installed on the Galaxy S8 and Galaxy S9, so try it right now.
Download Samsung SideSync on your computer and install it on your phone from the Google Play Store if you don't have it already. Then, just open them both and follow the instructions. Sidesync is very user-friendly, so you shouldn't have any problems getting it all set up.
Once SideSync is open on your computer and a Galaxy phone go to Settings and look for "presentation mode". This is what you'll use to mirror your Samsung Galaxy to a computer.
Additionally, if you have a Galaxy S8, Galaxy Note 9, or new devices like the Galaxy S10 buy Samsung's DeX dock. This turns your phone into a full desktop experience, almost like a completely new operating system. It's still Android, and you can control it with a keyboard and mouse. Then you don't have to mirror anything. Essentially, Samsung DeX skips the need to bridge a PC with your phone and does everything for you.
TeamViewer QuickSupport
Last but not least is TeamViewer, a program that is a long-time fan favorite. Gamers love TeamViewer, and I've used it in the past for tech support on a family members computer. Instead of trying to explain something to someone just get remote access to their device and do it yourself. That's the power of TeamViewer.
The main feature is giving someone else remote access and mirror control over your Android. That said, you can set it up and control everything yourself too, making it an excellent alternative to most paid programs. Download TeamViewer to your computer, and get the QuickSupport app for Android. Connect the two and easily access your Android devices from a computer.
With Remote Access, you can quickly control an Android device at your house while you're at work. Perfect if you forgot a presentation, left your phone at home, or want to control some smart home products or gadgets.
Final Thoughts
These services will let you control any Android device from your computer. Some are perfect for gamers, like MirrorGo, while others have a little of everything to fit any users needs. Figure out what you're trying to do, or what task you need to complete, then choose one and download it today.
Once you know which Android to PC service is right for you go download it and get started. Try playing Android games from a computer, or enjoy millions of apps on a bigger screen. While you're here, check out this list of the 100 Best Android Apps for 2019.